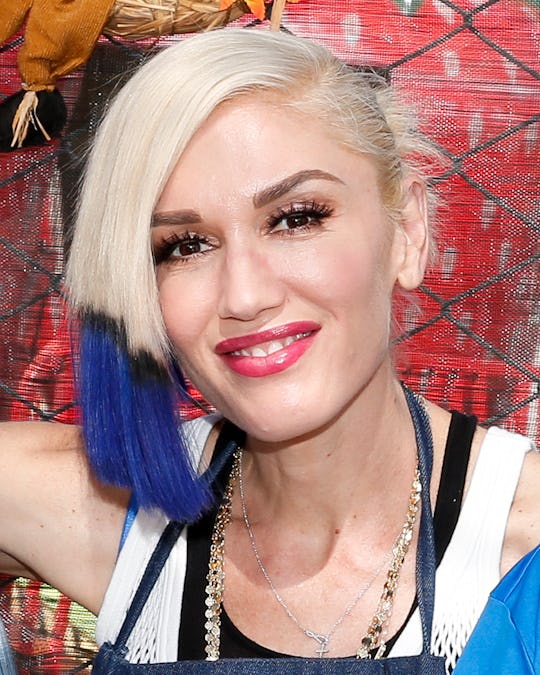 Rick Polk/Getty Images
Gwen Stefani Releases Harajuku Lovers For Pets & It's Basically The Cutest Thing Ever
Whether she's producing her own hits or sitting in the judge's chair on The Voice, it seems like Gwen Stefani is everywhere these days. (Especially now that she and Blake Shelton are officially a thing.) And if you're at all into fashion, you're probably way familiar with her Harajuku Lovers line. Well now you can make sure your fur baby looks just as good as you do: On Nov. 8, Stefani unveiled her Harajuku Lovers accessories collection for Petco. And if you haven't taken a peek at it yet, believe me, you'll want to buy Every. Single. Thing.
For those of us who want our pets to wear their personality, this new line is giving us more options. From squeaky dog toys that look like our favorite emojis to dog sweaters embroidered with the British flag, you'll definitely find something to treat them with. The best part? The Harajuku Lovers catalog is full of affordable trinkets ranging from $5-20, making it super affordable to spoil your pup. (You'll just have to get a move on, though, items are only available for a limited time.)
So what inspired Stefani to do a line for pets? For starters, she told PopSugar that Harajuku Lovers is the "DNA of who I am ... I discovered ska music when I was 17 years old, or 16 years old. It was kinda based on old and new." Though she said her and two friends, Paula Bradley and Jolie Clemens — who she said are die-hard pet lovers —  thought about the pet line for some time. And now we're here. Stefani also told PopSugar:
They've been wanting to do this for so long, so I love them, and I love Harajuku Lovers, and I love designing, so we were literally stalking them to try to let us do the line for so long.
Check out this insanely adorable teaser video that was created for the line. (Because it doesn't get much better than a doggy photo shoot):
Yep, it's all pretty adorable. 
I don't know about you, but I'm super jealous of all these pups' and their kickass wardrobes...
Image: Rick Polk/Getty Images