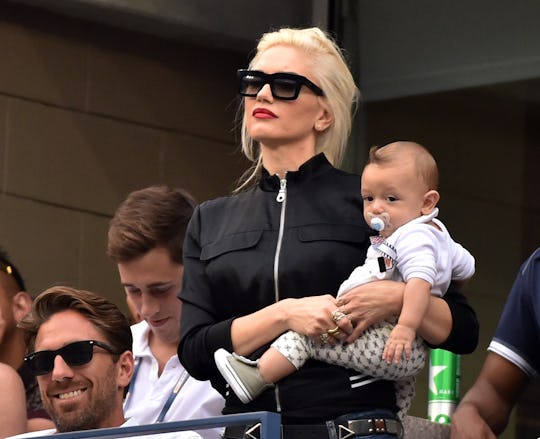 STAN HONDA/AFP/Getty Images
Gwen Stefani Shared A Video Of Her Son Singing & It Is Super Adorable
What isn't there to love about Gwen Stefani? The singer's band, No Doubt, was the perpetual soundtrack for misunderstood 90's girls everywhere — and it feels like we have grown up with her. We've seen her go from singing about boys, to becoming a wife, and then becoming a mother, which I am definitely not mad about. Therefore, I happy when Gwen Stefani shared a video of her son singing — because it was so, so cute.
Gwen Stefani is one of the busiest mothers in the business. When she isn't coaching singers and working as a judge on The Voice, promoting her new album, This Is What the Truth Feels Like, or making appearances with her boyfriend and fellow Voice judge, Blake Shelton, she is busy being a mom. Stefani is a mother to three sons, Kingston, Zuma, and Apollo — a very busy mom, indeed.
Stefani is also currently preparing and rehearsing for her This Is What The Truth Feels Like tour, which hits the road in July and makes stops all across the United States. But during her tour rehearsals, Stefani has a special guest singer join her — her youngest son, Apollo. The two-year-old took the stage at rehearsal, which was documented on Stefani's Snapchat account.
Editor's Note: The Instagram post has since been deleted.
The video features Apollo standing on top of blocks on Stefani's practice stage and singing "Old McDonald" into the microphone. The snaps also show Apollo standing next to his mom with a pacifier in his mouth, looking so cute as he watches her sing into the microphone. In one clip, Apollo beats two drum sticks together proving that the little boy has got some serious rhythm in his blood — and maybe a future career in music?
The assumption would not be far off. Not only is Apollo's mom one of the most kick ass rockers of the '90's but his dad is, too. Apollo's dad is rocker Gavin Rossdale, who was Stefani's husband for 13 years before the two announced their separation in fall 2015. Rossdale is the lead singer of the band Bush and met Stefani when the two were on tour together in 1995. Which leads me to believe that at least on their sons has to go into the music business with such talented parents. Perhaps that child is Apollo?
Stefani also recently shared a throwback photo of her oldest son, Kingston, on the tour with Stefani when he was much younger. The caption reads "roadie Kingston" and is so cute.
You can tell that Gwen loves music, loves her children and loves when they're together. I'm sure we can be on the lookout for Apollo's new album debuting many years from now.