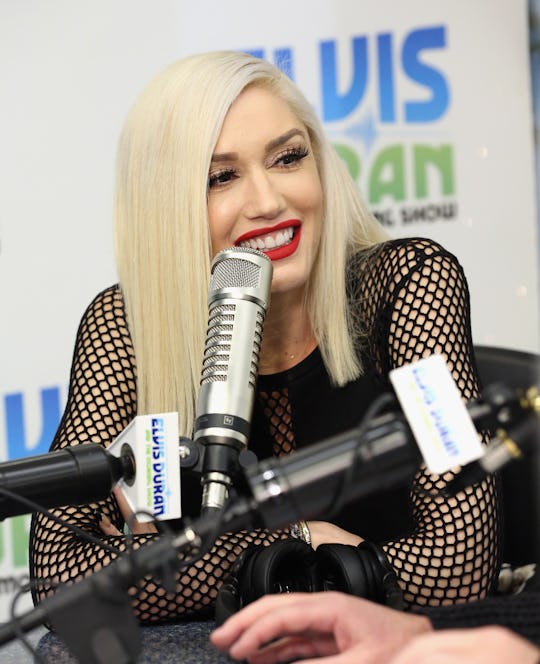 Robin Marchant/Getty Images Entertainment/Getty Images
Gwen Stefani's Son Apollo Told Her Fans To Buy Her Album, & It Was A Total Mom Moment -- VIDEO
He's her biggest fan (or, at least, her cutest fan). Following the release of her latest album, This Is What The Truth Feels Like, Gwen Stefani posted a video of her son Apollo telling her Twitter followers to go buy his mom's album on iTunes, according to Us Weekly, and it's just as adorable as it sounds. The new release marks the No Doubt frontwoman's first solo release in a decade, and has been eagerly anticipated, climbing the charts pretty quickly once it became available for download. But even if it was already destined to do well, a little extra promotion from her two-year-old certainly didn't hurt, and getting a sweet glimpse into Stefani's life as a mom was a nice reminder that, even if she is a major celebrity, she's also just another mom with a phone full of kid photos just like everyone else.
In the clip, Apollo — her youngest son with ex-husband Gavin Rossdale — can be seen snuggling in his bed (complete with Star Wars sheets — necessity), wearing an amber teething necklace. When prompted by his mom, Apollo sweetly repeats, "everybody go to the iTunes!" And even though he didn't seem to know why, she gave him the answer to that as well — "'cause Mama's record."
This Is What The Truth Feels Like is a big album for Stefani. Not only has new solo music from the singer been long-awaited, but it marks her first post-divorce material. And according to E! News, it's thought to be pretty heavily inspired by her new relationship with Blake Shelton, who is also moving on from his own recent divorce from Miranda Lambert. In fact, a number of songs on the album appear to reference her new love, like "Make Me Like You," "Getting Warmer," and "Where Would I Be" (fill up my Solo Cup when I'm feeling so lonely? Yeah, I'd say that's a Shelton reference!).
But it sounds like Stefani's hiatus was unintended: according to Entertainment Weekly, she actually scrapped an entire album in 2014 after deciding it felt "weird and fake." Discussing the album, she told the mag:
I had just had Apollo, and they had just called me to do The Voice. It was like, 'How am I going to nurse a baby, be a mom to two other kids, be on a new show, and write songs?' So I decided to curate a record….[but] every time people would write things, I was like, 'That's what I sounded like 12 years ago—maybe you should call Charli XCX or somebody else.' It felt weird and fake. It wasn't meant to happen.
Instead, according to People, the inspiration came later, after her marriage fell apart:
I was all the way down. And I just felt like, 'God I gotta turn this around. I can't go down like this'...[Making music] was the only thing that felt good at all. That's what this whole record documents – working through it, having faith, believing in myself and wanting to do something about it.
It definitely seems to be striking a chord with her fans: This Is What The Truth Feels Like has already hit #1 on iTunes. Thanks to Apollo, of course.