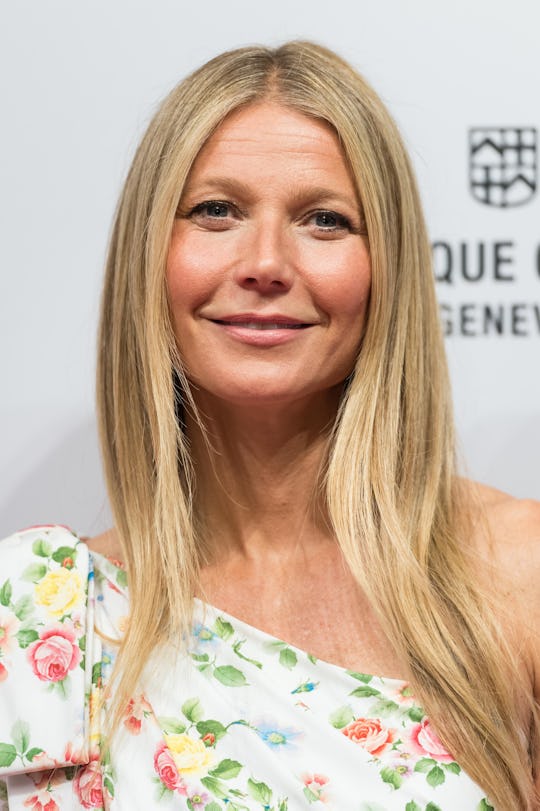 Ian Gavan/Getty Images Entertainment/Getty Images
Gwyneth Paltrow & Her Daughter Apple Are Basically Twins In This Sweet New Photo
Sometimes we forget that our favorite celebrities babies eventually, well, grow up. For instance, in honor of #NationalDaughtersDay on Thursday, one actress made that very clear. In fact, Gwyneth Paltrow and her daughter Apple are pretty much twins now, as you can see in a new, sweet photo the GOOP founder shared with her fans on Instagram.
In the photo Paltrow shared on Thursday, the fresh-faced beauties wore matching makeup and smiles. "Happy #nationaldaughtersday Apple Martin, it's like I conjured you from a dream, you make my life," she wrote in a beautiful sentiment. The pair's electric blue eyes are easy to spot but Apple also has the same nose, smile, and the round cheeks of her mother and grandmother, Blythe Danner.
Apple's dad is Coldplay frontman Chris Martin, to whom Paltrow was married for 10 years, according to PopSugar. The two famously "consciously uncoupled" in 2014, and have stayed friendly for the sake of raising Apple and their son Moses, as Page Six reported.
In an Instagram post on Martin's birthday, for instance, she captioned a photo of the family together on a beach, "Happy birthday my brother. Thank you for giving me these two. 💖"
Last winter she also posted a photo of Martin sitting next to her new love, as reported by E! News, Brad Falchuk. She captioned it "Sunday brunch #modernfamily."
Paltrow has been fairly reclusive about posting photos of her children up close, as noted by ELLE, though she is becoming more open as they age. For Apple's 14th birthday in May, Paltrow posted an extreme up-close pic on the beach, calling her daughter the "most vibrant, hilarious, twirling all over the place, beautiful (inside and out) young woman."
For Moses' birthday in April she posted a similar beach shot of her son with a surfboard, in which he also looks a bit like a mini-Gwyneth. "You broke the mold 12 years ago today when you came into the world. #iwasbornthedayyouwereborn," she captioned. (I have to believe Apple, who is older than Moses, had a thing or two to say about that hashtag.)
For Father's Day, she added a photo of her children alongside the two children Falchuk shares with his ex-wife, according to Town & Country. Taken in a helicopter, it looks like the two families can easily spend time together.
For National Daughters Day, it was all about Apple though and at least a few followers commented on the remarkable photo with a joke about the apple not falling far from the tree.
Others just celebrated the pair and their bond. "So lovely. Mother-daughter love is sacred 💕," one fan wrote. Even some celebrities got into the mix. "My goodness she is adorable," Gwen Stefani wrote, and Selma Blair commented: "What a darling and beautiful and flowing and adorable duo. Apple is stunning." Kate Hudson chose to keep it simple with "My oh my" and a crying emoji.
As Apple continues to grow and come into her own, lets hope they look back every year at this time and are able to celebrate a connection as vibrant and beautiful as what's on display here.