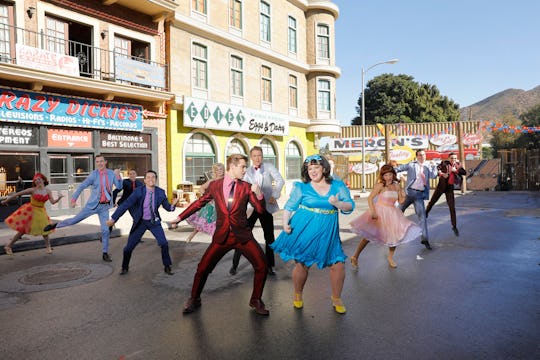 Trae Patton/NBC
'Hairspray Live!' Vs. 'Hairspray' The Movie: How NBC Is Embracing The Musical's History
Hairspray has seen more than a few iterations come and go. It began its life as a 1988 John Waters movie that starred Ricki Lake and dealt with Waters' favorite themes of music, style, teenage delinquency, and being an outsider, all wrapped up in one fantastically weird package. Though music was integral to the film, it wasn't a musical; that changed when it was adapted for Broadway and became a Tony award-winning success. That musical eventually turned into a 2007 film, and now NBC is making Hairspray the next live TV musical event. Comparing Hairspray Live! vs. Hairspray the movie shows how relevant the musical still is, no matter which format it comes in.
In many ways, most of the changes to Hairspray have already been made: in translating it from a scrappy indie John Waters movie to a Broadway spectacular, there was already a shift to more expensive production, brighter colors, bigger moments, and a flashier style. Though the bones of the story remain the same throughout its various versions, Hairspray has already been transformed into something bigger than its beginnings. It looks like the newest version of Hairspray will be following in the footsteps of its predecessors. It's not necessarily reinventing the wheel, but embracing its history.
It's Live!
Perhaps the biggest change of all is the live audience aspect, which brings Hairspray Live! a lot closer to its Broadway roots than the 2007 movie feasibly could. However, the audience isn't just going to be sitting around and politely applauding; they'll be a part of the show. "We're going to work people into scenes, like crowd scenes and extras and background people," NBC chairman Robert Greenblatt said to Playbill. "They're going to just organically react to the musical numbers. There will be a fair amount of live responses."
The Social Relevance
This is one thing that doesn't change, though it does feel especially relevant lately. Hairspray tackles issues of segregation and racism, and with everything happening in the country, that resonated with the cast even more than it did in years past. "When I was doing Dreamgirls, I had to go back and look at what was happening in the sixties," Jennifer Hudson, who is playing Motormouth Maybelle, recently told Out Magazine during an interview, adding:
I don't find myself having to do that now. It's like, turn on the news. It helps us in a way because now we can relate in this day and age. I think it gives the story that much more power and meaning. To us, this is normal. But now, we won't necessarily see it that way.
Cameos & Returning Alums
With such a rich and varied history, it makes sense that Hairspray wants to honor what came before. Hairspray Live! will feature cameos from Tracys past when 1988 Tracy (Ricki Lake) and the original Broadway Tracy (Marissa Jaret Winokur) pop up for an important scene. But it's also bringing back one more important cast member. Harvey Fierstein will reprise his Tony Award winning role as Edna, Tracy's mother, and he's also penning the teleplay.
Music
Some songs were cut in the jump from stage to screen in 2007, and Hairspray Live! will feature a blend of Broadway and movie songs, as well as new material. "We're going to try some different songs that Scott [Wittman] and I had tried at one point," said composer Marc Shaiman during the same Playbill interview. "We're going to put a movie song in there, and there might be something new that we'll come up with. But we want to be careful not to screw with that one little perfect thing that we made once."
With a show as successful and beloved as Hairspray, there wasn't much that warranted changing. According to Shaiman, they didn't want to fix what wasn't broken. Greenblatt agreed, saying, "It's a show that really works, so it didn't require a re-think. There's nothing [hugely] different. We haven't moved it to the 1990's or something crazy. It's [still] the show you love."
So don't worry, Hairspray fans; you'll still be able to sing along.