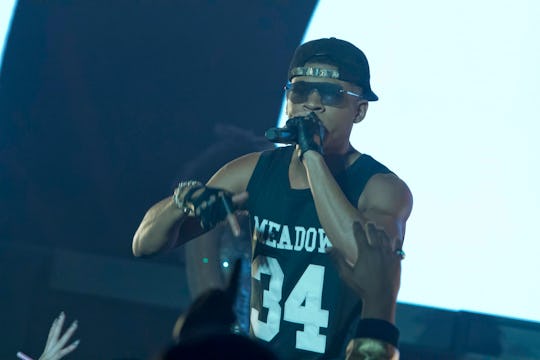 Chuck Hodes/FOX
Hakeem Proposes To Laura On 'Empire,' But It Might Not Be For The Right Reason
Out of all the crazy things that happened on Wednesday's Empire — Lucious' past coming to light, Camilla's death being confirmed — there was some good that happened. Well, maybe it was good, I'm still trying to figure it out. On Wednesday, Hakeem proposed to Laura on Empire, in his strange way of trying to form a solid family that he doesn't feel like he has at his actual home. But, will this relationship with Laura actually last, and will fans actually get to see of the dopest weddings to ever exist?
Well, I'm not so sure this proposal thing is happening for the right reasons. On the show, the Lyon family faced yet another explosive fight, this time on Cookie's birthday, between Lucious and Andre. The two fought about the fact that Lucious never told Andre that his mom — who killed herself, revealed in Wednesday's episode — was most likely bipolar. He, too, suffers from the disease, and felt like knowing that he wasn't the only one in the family with it would have helped him earlier on in diagnosis.
The fight escalates and puts everyone on edge. And, since all the Lyon family members seem to deal with stress in different ways, we see Hakeem let off some steam by proposing to Laura. Yes, Hakeem was just "in a relationship" with Camilla; and yes, he just slept with Laura for the first time; and yes, he's the father of Anika's baby (that no one knows about yet), but dammit, he's a man in love and he is going to marry Laura whether you like it or not.
I'm not so sure this engagement is such a good idea, but what do I know about young love. Because things can't just be simple for this show, Laura says yes as Tiana — Hakeem's former love interest — looks on. But will they last? Ilene Chaiken told Variety that fans can expect a wedding and a marriage this season. Whether that's from our young Hakeem, or he's just a red herring is yet to be determined. For now, it seems like he could be our soon-to-be-groom, but that could all change at the flip of a beat (see what I did there?).