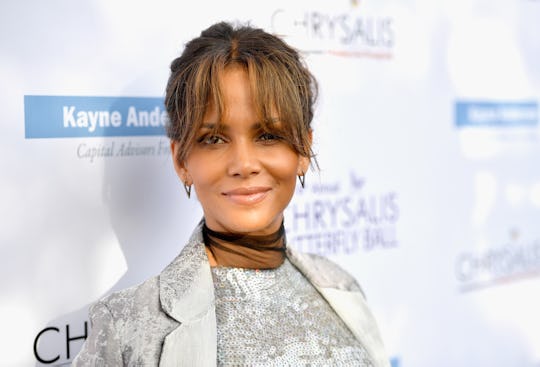 Matt Winkelmeyer/Getty Images Entertainment/Getty Images
Halle Berry Isn't Pregnant, Everyone
Halle Berry attended the Chrysalis Butterfly Ball in Los Angeles Sunday, and she looked dazzling on the purple carpet in a form-fitting silver sequined dress. But her appearance also ignited rumors that the actress was expecting, as some believed she appeared to be cradling a bump in photos from the event. It didn't take long for Halle Berry to respond to the pregnancy rumors that soon dominated some gossip sites in a pretty honest and refreshing way.
"Can a girl have some steak and fries??" the Extant actress captioned an Instagram photo of herself Monday, following it with an eye-rolling emoji and a winky-face emoji. Of course, she didn't deny outright the gossip du jour that she has baby No. 3 on the way, but she didn't have to. Her representative set the record straight to Page Six hours before, telling the outlet, "It is completely untrue. She is not pregnant."
Following the Butterfly Ball appearance Sunday, the gossip mill was working overtime. Radar Online published the photos under the headline "Pregnant Again?! Halle Berry Caught Sporting Possible Baby Bump." Metro writer Sarah Robertson insisted that "the bump was prominent in her dress and Halle seemed happy to show it off" before acknowledging another possibility: "Or maybe Halle is playing us all along and it's just a food baby in there…"
In her post, it seems as though Berry has clearly indicated that it's definitely not a baby bump. And, as a side note, there's definitely nothing wrong with eating a steak and fries, anyhow — it won't necessarily give a person a belly, even if that's exactly what Berry had for dinner the night of the ball. Additionally, the idea that a certain type of food would give one a belly or make a person fat (or that there's anything wrong or abnormal about being fat) is misguided on a few levels.
Berry is already the mother of two: 8-year-old Nahla with ex-boyfriend Gabriel Aubry and Maceo, 3, whose father is her ex-husband Oliver Martinez, according to People. As far as the public knows, though, she's not seeing anyone right now, leading some who bought into the pregnancy rumor to wonder who the father could be:
Others took a you-go-girl attitude toward the (untrue) news that she had a baby on the way again at the age of 50:
They were all wrong, we know now. And it does seem a bit unlikely that Berry will have another baby, as she told Ellen DeGeneres back 2014 that she was totally shocked to find out that she was pregnant with her son, Maceo, because she was premenopausal at the time. "I mean, I didn't think it was possible to have another baby and I thought for sure I had a need never to get married again. So, I've learned never to say never," she said, according to The Daily Mail.
Let's use this as a moment to remember that analyzing and speculating about other people's bodies — even those of world-famous celebrities — is never a good look.