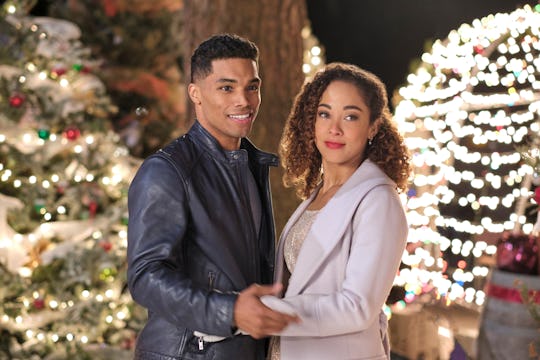 Courtesy of Hallmark Channel
Hallmark Channel Has A Full Week Of New Movies For Thanksgiving
Thanksgiving is the underdog of the holiday season. Sadly, there are no movie marathons dedicated to the hour or so families spend at the dining room table using the ~*fancy*~ silverware for the holiday. But, there is the Hallmark Channel, which might not be airing anything turkey-specific, but does have a week full of new movies premiering throughout Thanksgiving.
The epicenter of the Thanksgiving holiday might be the meal — roasted turkey, candied yams, cranberry sauce, etc. — but this year, the Hallmark Channel is providing a backdrop of at least eight original new films. Yes, they are, admittedly, all about Christmas, but... well, Thanksgiving is used to being downright ignored, right?
A new Christmas movie will premiere at 8 p.m. each night of the week, starting Saturday, Nov. 23, until the following Saturday, Nov. 30. Now, to be fair, one look at Hallmark Channel's schedule for the month of November shows that there are new movies premiering almost every single night. However, a fresh lineup of holiday cheer might be exactly what some families need playing in the background of their Thanksgiving celebration. Especially if they only other option is football.
Saturday, Nov. 23: Christmas at Graceland
Hallmark Channel returns to Graceland! In this movie, Owen (Adrian Grenier) hires a nanny, Harper (Kaitlyn Doubleday), for his children after losing his wife. In a not-so-shocking turn of events, Owen and Harper become closer than expected... and, well, you'll just have to tune in to see how that happily ever after plays out.
Sunday, Nov. 24: Cherished Memories: A Gift To Remember 2
Not even a little amnesia can stop true love! In this highly anticipated sequel, it's been one year since Darcy ran over Aiden with her bicycle. Now that Aiden has recovered and the two are madly in love, what does the future hold for them?
Monday, Nov. 25: A Christmas Duet
Famed music duo Averie and Jesse split years ago, but a chance reunion at a cozy little ski lodge over the holidays might just rekindle their fame — both on and off the stage.
Tuesday, Nov. 26: Check Inn to Christmas
There's no preview for this one yet, but in this modern day Romeo and Juliet style story, big city Julia returns home to spend the holidays at her family's Rocky Mountain inn. But what happens when she falls in love with Mason, who just so happens to be from the family who owns the small town's only other inn?
Wednesday, Nov. 27: The Christmas Club
In this heartfelt film, two do-gooders are rewarded with true love after helping an elderly woman find the Christmas savings she seems to have lost.
Thursday, Nov. 28: Christmas At The Plaza
This one doesn't have a preview yet, either, but it tells the story of two strangers who are hired for a big event in New York City. As Jessica and Nick bond while working together, they seem quick to fall in love. The catch? Oh, nothing, just Jessica's boyfriend.
Friday, Nov. 29: Christmas In Evergreen - Tidings Of Joy
In the latest of the Evergreen franchise from Hallmark, a skeptical writer comes to town to investigate whether or not the Christmas fever is all it's cracked up to be.
Saturday, Nov. 30: Christmas In Rome
I don't know about you, but I'm seriously pumped about Hallmark's movie lineup as Thanksgiving approaches. You can bet I'll be tuning in to some (or all) of this sappy films over the upcoming holiday weekend. And the best part? There will still be a whole month of holiday films yet to come!
This article was originally published on