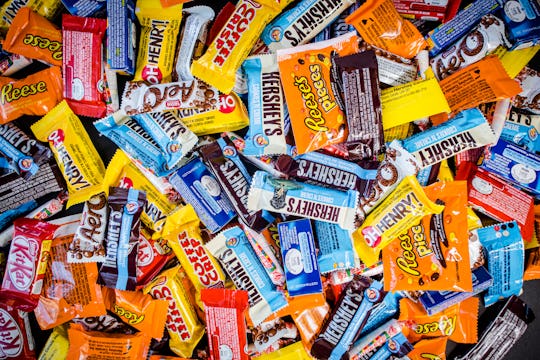 AHPhotoswpg/iStock Unreleased/Getty Images
Target, Kroger, & Publix Have Some *Very* Good Halloween Candy Deals Right Now
Listen, I know that many of us, myself included, are skipping trick-or-treat fun this year, but that doesn't mean I'm skipping the candy. If anything, I'm buying more because of the stress. So these Halloween candy sales happening now are really speaking my language.
Personally, I'm a Snickers, Twix, and Reese's gal, with a strong love of Kisses and Twizzlers thrown in. Therefore, I go for the mixed bags of candy — which are at their largest and most abundant this time of year. And thanks to the pandemic, they're also cheaper than they've ever been. (Normally, you have to wait until after Halloween to get the good savings.) Stores like Target and Kroger are already offering deep discounts on those giant bags of candy. So much so that if, say, you wanted to buy a few extra bags and hide them in the freezer in Costco-size spinach bags so your kids don't find them, you could. And you probably should.
Most of the sales reflect the jumbo bags, but there are a few, sneakier sales with smaller bag options available — which is great if you're a couponer. You can double those coupons or sales and get the lowest price possible.
We only include products that have been independently selected by Romper's editorial team. However, we may receive a portion of sales if you purchase a product through a link in this article.