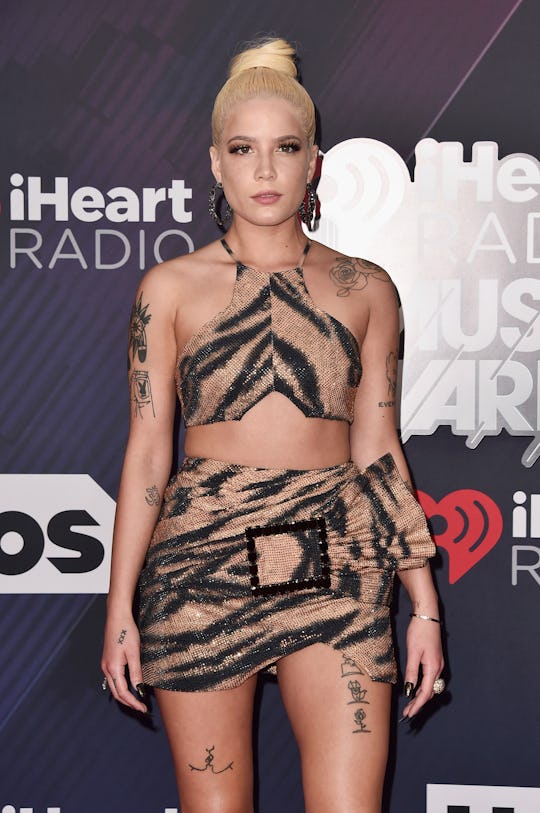 Alberto E. Rodriguez/Getty Images Entertainment/Getty Images
Halsey Reveals How She's Protecting Her Fertility Amid Her Painful Battle With Endometriosis
Pop star Halsey has long been open with her fans about her battle with endometriosis, a painful and often debilitating condition. Now, she's opening up about taking charge of her fertility due to the disorder. On Thursday, Halsey revealed that she's freezing her eggs as a way to give herself more control over her body and her future.
The 23-year-old singer went on the TV show The Doctors on Thursday and discussed the choice she's made. "Doing an ovarian reserve is important to me because I'm fortunate enough to have that as an option. But I need to be aggressive about protecting my fertility, about protecting myself," she said during the segment, according to E! News.
Endometriosis can be a painful disorder that causes the tissue that makes up the lining of the uterus to grow outside of it, adhering to other organs, according to UCLA Health. While some women have no symptoms, others experience abdominal pain, pain with periods or sex and can experience difficulty getting pregnant. In fact, UCLA Health notes that between 20 and 40 percent of women with infertility will have endometriosis.
This isn't the first time that Halsey has opened up about her battle with endometriosis. In January 2017, for example, she shared a photo on Instagram on the day she had several surgeries, including one to treat the condition. "If you suffer from chronic pain or a debilitating disease please know that I have found time to live a crazy, wild, rewarding life AND balance my treatment and I hope so much in my heart that you can too," she captioned the photo of her at the hospital.
One of her fans commented on the photo and reminded everyone of the seriousness of the condition. "My mom almost died before she was diagnosed with [endometriosis] in 1980. You're such an inspiration to all."
Editor's Note: The Instagram post has since been deleted.
But Halsey's road to treatment didn't come easily. She revealed that she grew up being told that women in her family just have really bad periods, according to People. When she first began suffering symptoms, doctors told her that her problem was dehydration, chronic fatigue, or anxiety, according to E! News. "A lot of the time they can make you think it's in your head," she told The Doctors.
Touring exacerbated things and she began fainting. "The stress and strain on my body really started to enhance the symptoms and make the experience a little bit worse," she said during the same interview with The Doctors. Her diagnosis brought the relief of knowing she was battling with a real condition and not her imagination. "It also kind of sucked to know that I was going to be living with this forever," she added.
Soon after her diagnosis she learned she was pregnant, according to People, but before she could wrap her head around that she found herself miscarrying while onstage. "The sensation of looking at a couple hundred teenagers in the face while you're bleeding through your clothes and still having to do the show," Halsey told The Doctors. "Realizing in that moment I never want to have to make that choice ever again of doing what I love or not being able to because of this disease."
Understandably, the miscarriage was a terrifying time for her, as In Touch Weekly reported, but she wanted to speak out about it to help other young women. "I never read [about] a 20 year old girl who's scared and alone and single had a miscarriage," she said during an interview with Playboy, as In Touch Weekly reported. The miscarriage helped her find the confidence to get more aggressive about treatment, according to E! News.
Halsey acknowledged during her interview with The Doctors that some may think 23 is rather young to be thinking about preserving her fertility, but she's actually being proactive at a good time in her life. According to USC Fertility, "The simple answer is to pursue egg freezing…in the prime reproductive years – a woman's 20s and early 30s – to take advantage of premium egg quality and quantity."
Halsey has also been honest about how endometriosis impacts her on a personal level. According to E! News, she said:
Reproductive illness is so frustrating because it can really make you feel like less of a woman. There's a lot of times when you're sitting at home and you just feel so terrible about yourself. You're sick, you don't feel sexy, you don't feel proud, you don't feel like there's much hope.
She added that taking charge of her fertility with the ovarian reserve gives her a feeling of control and hope. Ultimately fertility is an intensely personal decision that every woman has to research and decide about for herself. But for Halsey, this decision to freeze her eggs is just one more step toward the future she hopes to create.