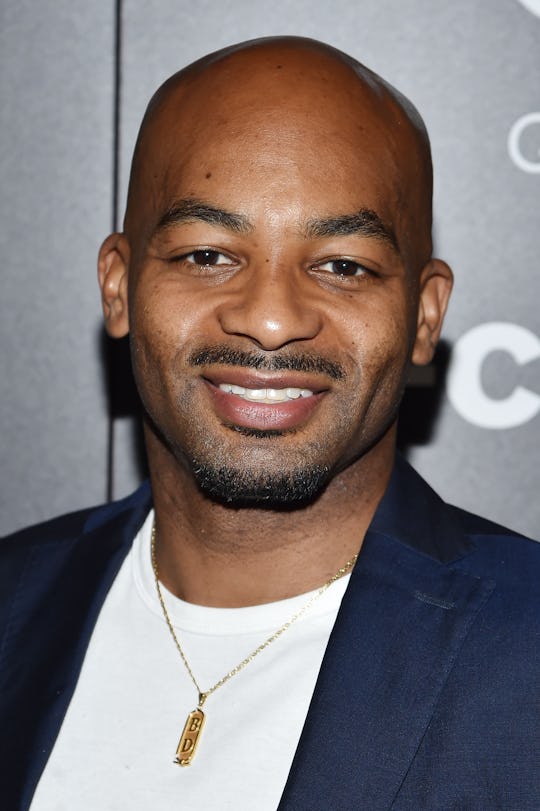 Dimitrios Kambouris/Getty Images Entertainment/Getty Images
'Hamilton' Actor Says "Conversation Is Not Harassment" In A Beautiful Response To Trump
The fear and anger of what Donald Trump's future presidency will mean for America has not been left out of art and pop culture. Saturday Night Live hasn't shied away from depicting Trump trying to figure out how to actually be a president and put his campaign promises into action. Cartoonists used their art to come to terms with the fact that Trump will run this country. But perhaps the most important moment art commented on the social and political atmosphere in the wake of Trump's election came from the cast of Hamilton, which addressed Vice president-elect Mike Pence as he was leaving the show. Although the President-elect called the message "harassment," Hamilton actor Brandon Victor Dixon responded beautifully to Trump by saying that "conversation is not harassment."
Hamilton celebrates America's history as a country of immigrants, and has been praised for its diverse cast of LGBT, Hispanic, and black actors.
So on Friday, when Mike Pence — a governor of Indiana who previously signed a bill allowing business owners to refuse service to LGBT customers — went to watch the huge Broadway show, it was certainly a clash of ideologies.
Cast member Brandon Victor Dixon, who plays Vice President Aaron Burr in the play, exercised the right to free speech by making a statement written by the show's producers and team members.
We, sir — we — are the diverse America who are alarmed and anxious that your new administration will not protect us, our planet, our children, our parents, or defend us and uphold our inalienable rights. We truly hope that this show has inspired you to uphold our American values and to work on behalf of all of us.
President-elect Trump then used his free speech (or wasted, depending on where you stand) to write on Twitter that the cast was very rude to Pence and should apologize to him.
Steven Van Zandt, member of Bruce Springsteen's band E Street, also criticized the cast for bullying an audience member, suggesting that, although he thought the statement was "beautiful," it was given at the wrong time and place.
Dixon defended the casts' message to Pence on Monday's CBS This Morning, saying that "conversation is not harassment."
Dixon made it clear that the purpose of the statement wasn't to bully or harass Pence, but to "spread a message of love and of unity" in response to the "emotional outpour" since the election. He emphasized that there is "nothing to apologize for." Nope. There isn't.
If Pence truly felt harassed, he could have left in the middle of Dixon's speech. Instead, he stayed, and Dixon said on CBS This Morning that he appreciated that the vice president-elect listened to their words.
Pence even said he wasn't offended by the Hamilton cast's message to him. Dixon said he hoped the statement was the "beginning of a conversation" they could one day continue.
All of the focus on Trump's demand for an apology should not take precedence over the intention behind the message, which was extremely important. Dixon reflected on why it was important for the show — and particularly a show as global as Hamilton — to make a statement on behalf of those who are marginalized.
Art is meant to bring people together, and when you have a platform like that...to spread a message of love, to spread a message of unity. We're not here to boo, we're here to cheer each other on.
On behalf of the cast, Dixon also invited Trump to come see Hamilton.
But considering Trump called the show "overrated," I doubt he'll be taking Dixon up on that offer.