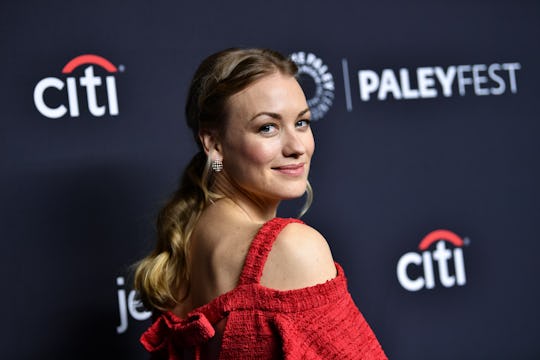 Emma McIntyre/Getty Images Entertainment/Getty Images
'Handmaid's Tale' Actor Yvonne Strahovski Opened Up About This "Really Gross" Pregnancy Symptom
When Handmaid's Tale actress Yvonne Strahovski announced her first pregnancy in early May, fans could easily pick up on her excitement. From Strahovski's gushing message relaying the news to her first bump pic, it's more than obvious that she can't wait to become a mom. As thrilled as Strahovski is, however, she's not afraid to get real about some pitfalls of pregnancy. And on Wednesday, Yvonne Strahovski dished on a "really gross" pregnancy symptom called ptyalism. If you're not familiar with this medical term, it's a condition where you produce excess saliva. How pleasant, right?
About a month after the premiere of Handmaid's Tale season two, Strahovski took to Instagram to reveal that she's expecting her first child. "I am very excited to finally be able to share my special news - I'm going to be a Mama," according to Instagram. "So very exciting to watch & feel this little Peanut growing every day!" Aww. Talk about a sweet announcement.
Now that fans are in the loop about Strahovski's pregnancy, she can freely talk about her pregnancy in interviews. Considering Strahovski kept her pregnancy on the DL for months, one can imagine she's happy about the new development. Although some celebrities don't like to talk about their pregnancies (nothing wrong with this, btw), it seems like Strahovski's down to discuss her pregnancy in detail.
As for what Strahovski opened up about recently, she got candid on Wednesday about the most "gross" pregnancy symptom she has experienced so far. "This is really gross..I had excessive saliva, so I had to carry around a little Spittoon around with me at all times, which is just horrendous," Strahovski revealed during an episode of Australian talk show The Project, according to Us Weekly.
Woof. You know it's bad when you have to carry around a spittoon — a receptacle for spitting into — 24/7. I can't even begin to imagine how frustrating that must have been for Strahovski — especially since she was filming the Handmaid's Tale during this time.
Although the image of a glamorous actress putzing around with a spittoon bucket is a unique one, her condition isn't. Many people experience increased saliva production in the first trimester of pregnancy, according to the U.S. National Library of Medicine National Institutes of Health. As for why this condition occurs, experts believe its related to excess nausea. The more nausea a person experiences, the less often they're likely to swallow. And if you have a condition like hyperemesis gravidarum, there's a good chance you'll also struggle with ptyalism.
Case in point: Strahovski struggled with nausea in the first trimester. "I was very nauseous...there's a lot of pregnancy symptoms that nobody tells you about," she explained, according to the Daily Mail. "Thankfully I have not vomited but the nausea is very real."
Another possibility centers around fluctuating hormones because "estrogen plays a role in the formation of saliva," according to Menopause Health Matters. Considering pregnant people experience a lot of changing hormones, it's no shock that many people deal with ptyalism while pregnant.
The good news is there are ways to combat ptyalism. Experts recommend people who suffer from ptyalism brush their teeth regularly, drink a lot of water, chew gum, and eat healthy meals, according to Oral-B. And if all else fails, you can buy yourself a handy dandy spittoon to deal with the excess spit. Pregnancy sure is glamorous, ain't it?
Luckily for Strahovski, her spittoon days are done. Strahovski is now enjoying the more fun symptoms of pregnancy, like food cravings. "When your pregnancy cravings get the better of you," Strahovski captioned a recent shot of herself enjoying a big slice of watermelon, according to Instagram.
Isn't it nice to see Strahovski looking so happy and healthy? Here's to more pictures like this one because Strahovski deserves to ride out the rest of her pregnancy spittoon-free. Fingers crossed.