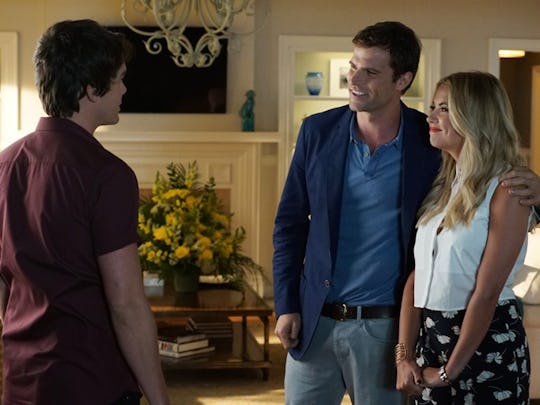 Eric McCandless/Freeform
Hanna & Caleb Gave 'PLL' Fans Some Major Feels With A Flashback
One of the saddest things about this season of Pretty Little Liars is that Hanna and Caleb aren't together anymore. On Tuesday's episode "Where Somebody Waits For Me," Pretty Little Liars (PLL) fans were treated to a Hanna/Caleb ("Haleb") flashback — and oh, the nostalgia. First, Hanna and Caleb met to talk about Uber A over some drinks at the Radley hotel. It's both a little awkward and a little sweet — sort of like whenever you run into an old flame, right?
Caleb told Hanna how strong she is and they chatted briefly about how Caleb had became a craft beer guy since she last saw him. Hanna, who had been fighting with Jordan, couldn't help herself after their meeting and she started thinking about how far she and Caleb had come.
The show then flashed back to New York City, when Hanna and Caleb were living there. In the flashback, Hanna remembered fighting at a bar: Caleb had made a dig at her for acting like her bosses before accusing of Hanna of becoming just like all the designers she worked for at the time. (Definitely not a compliment.) Caleb then asked Hanna what she wanted and she said that all she was looking for was to go back to just "knowing" what the other needed. Caleb laughed it off. "And when was that?" he asked her, as he walked off. Not pretty.
There was not one unmoved PLL fan on Twitter as they watched the beginnings of a Haleb breakup. "Do not make me watch a Haleb breakup scene," tweeted one fan, summing up everyone's feelings about the whole situation. It's just too sad, really.
The good news? Before Caleb left the Radley and Hanna went down memory lane, she closed the hang out by promising to let him pay for cocktails "next time." So that must mean we're getting more Haleb drink dates, right? At least both parties seem open to the idea. Okay, it's bad news for Spencer, but this is PLL. They'll figure it out. Caleb seems to still have feelings for Hanna even while he defended Spencer to Mona in the later half of Tuesday's episode.
It's all so complicated. Executive producer Joseph Dougherty told The Wrap that he's been watching fan reactions to the new relationship set up this season. "We like the people who watch the show, and it's not our intention to make them really unhappy," he said. His message to fans? "You've trusted us this far, and if you trust us a little longer, we'll lead you to a satisfying place and tell you a story you'll be happy we told you."
Exactly how thrilled you'll be by the end of it all depends on whether you're Team Haleb or Spaleb. But really, "Spaleb?" What kind of nickname is that for a happy couple? My money's on Haleb.