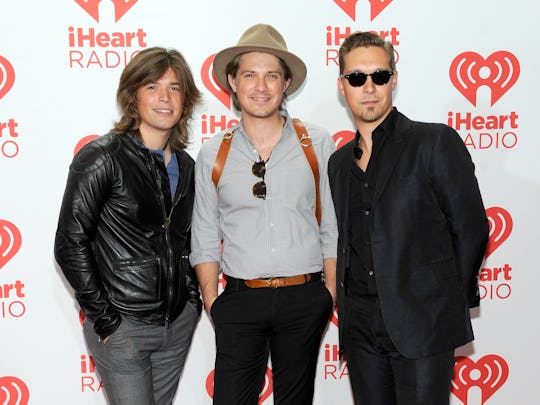 David Becker/Getty Images Entertainment/Getty Images
Hanson Put Their Kids In Their New Video
If you were a young teen in the late '90s, chances are pretty good that hearing "MMMBop" by Hanson will bring back a pretty intense wave of musical nostalgia (there's also a good chance that it might also end up stuck in your head for the rest of the day). But while the brothers may forever be remembered as a trio of long-haired teen heartthrobs, the reality is that they are now in their 30s, are still making music, and are all married with families of their own. In fact, Isaac, Taylor, and Zac actually have 12 kids between them, and it looks as though they also share their dads' talent: according to People, Hanson's newest music video features their kids singing, dancing, and playing dress-up, and it is absolutely as adorable as it sounds.
While there might be few things that will make you feel older than realizing that the same Taylor Hanson that dominated the Bop and Tiger Beat magazines of your youth is now a 34-year-old father of five (!), it's pretty cool to see that the band has continued to have a successful music career all these years later. In fact, 2017 actually marks the 25th anniversary of the band, and to celebrate, the group will be releasing a greatest hits collection, Middle of Everywhere, on Sept. 8. Their newest single, "I Was Born," will be included on the release, and the band told People that having their kids star in the video felt like a true full-circle moment.
Taylor told the magazine that they knew they wanted children in the video from the very start. He explained, "From the earliest conversations about this song, we imagined kids featured in the video to elevate the song's message of unbridled optimism for the future." From there, Zac said, it seemed like a natural fit to have their own kids take the starring role:
Featuring our own kids made sense because we knew they would share an honest performance. We loved the fact that it added another dimension to the story of pursuing our dreams for the last 25 years.
According to The Daily Mail, the Hanson kids range in age from 14 to less than a year old. Taylor has five children with his wife, Natalie (Ezra, 14, Penelope, 11, River, 10, Viggo, 8, and Wilhelmina, 4), while Isaac and his wife, Nicole, share three kids (sons Everett, 10, and Monroe, 9, and daughter Nina Odette, 3). In August 2016, Zac and his wife Kate welcomed their fourth child, a daughter named Lucille, who joined siblings Shepherd, 9, Junia, 6, and George 3.
In addition to just having a cuter-than-life video, "I Was Born" has already earned rave reviews, with NPR's Stephen Thompson calling the song "a gloriously rousing, life-affirming top-down anthem," and noting that "Hanson was, and still is, a terrific band, complete with real musical and songwriting chops, airtight harmonies and boundless stage charisma." And according to The Sun, it seems like the group might definitely be experiencing a bit of renewed interest from fans in the U.K.: after making an appearance on Good Morning Britain, viewers took to Twitter to express their surprise at seeing their former '90s crushes fully grown up:
The Hanson kids might not be rushing to start a family band of their own anytime soon, but it definitely sounds as though they enjoyed their moment in the spotlight. Isaac told People that "There was a lot of excitement across the board from the kids," and added, "thankfully for us, they all love the song."
Hoping to catch Hanson live? You're in luck: the band embarked on a 25th anniversary world tour earlier this year, and will kick off the North American leg Sept. 12 in Dallas, Texas (more information on tour dates can be found on the band's website).