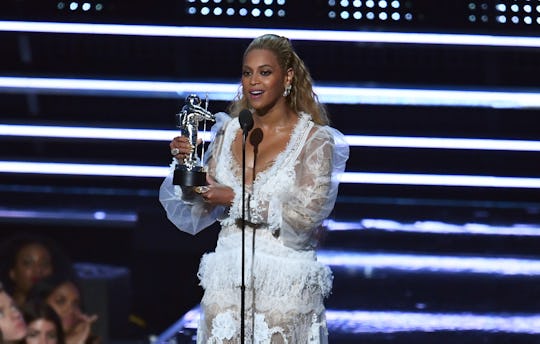 JEWEL SAMAD/AFP/Getty Images
#HappyBirthdayBeyonce Tweets That Prove Queen Bey Is Beloved By All
Today is not a national holiday but it very well should be. Aside from Labor Day, there's another very real reason to have a barbecue and hang out with friends this three-day-weekend: Beyoncé's birthday. Yes, Beyoncé celebrates her birthday today, Sept. 4, and these #HappyBirthdayBeyoncé tweets prove that Queen Bey is loved by just about everyone on the planet, which means, whether you live in the United States or not, everyone now has a reason to celebrate.
There is no denying that 2016 has been one of Beyoncé's best years yet. In February, Beyoncé started off the year by releasing the amazing music video to accompany her newest single, "Formation". Then in April, Beyoncé dropped a huge surprise — a new album and music videos to accompany it — without fans knowing what was in the works. Lemonade received amazing reviews from critics and fans alike, further cementing her icon status. (Seriously, the album is legendary.)
Shortly after the album's release, as well as its visual album premiere on HBO, Beyoncé embarked on the Formation World Tour, selling over $210 million in tickets (damn). To top that all off, Queen B delivered one of her most amazing performances at the 2016 Video Music Awards. I can't imagine what Beyoncé will do next in the three months left in 2016, but I have a feeling it's going to be spectacular.
Given all of that, it is no surprise that fans are celebrating Beyoncé's birthday the way that they are. She deserves all of the gushing birthday wishes she can get — which is exactly what fans are doing on Twitter using the hashtag #HappyBirthdayBeyoncé:
Being born on Sept. 4 makes Beyoncé a Virgo. According to Astrology Zodiac Signs, Virgos are "loyal, analytical, kind, hardworking, and practical." All of these traits I believe perfectly encapsulate Beyoncé — she always seems so kind in her television appearances and is no doubt one of the most hardworking people in the entertainment industry, and you know it's obviously true, because look, Twitter agrees with me.
Interviews with Beyoncé show she identifies wholeheartedly with her zodiac sign too — heck, she even has a song called "Gift from a Virgo." In an interview with Dazed and Confused Magazine in 2011, Beyonce talked about how much she agreed with being a Virgo:
I am a Virgo to a T! ... I like to think outside the box. I don't believe in the answer "no." I am completely driven and extremely critical — sometimes overly critical.... I have high expectations of myself and expect the exact same thing of everyone around me. I have always been that way. I am all or nothing.
It is these traits — combined with her sheer talent, the discussions she inspires, and her desire to inspire women to become the badasses that they are — which make Beyoncé's birthday one worth celebrating.
So while the United States of America does not have a monarchy, we do have one queen that our citizens can look up to and admire — Queen Bey. Happy 35th birthday to one of the most inspiring and talented women of our time! I cannot wait to see what the future holds for you, Miss Beyoncé. (#Knowles2020.)