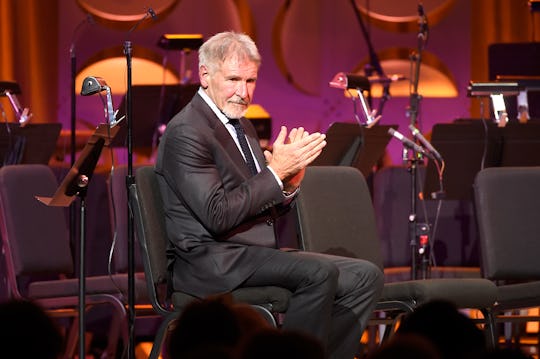 Matt Winkelmeyer/Getty Images Entertainment/Getty Images
Harrison Ford Has Scary Aircraft Incident
One of America's most beloved actors, Harrison Ford, was involved in a plane incident Tuesday afternoon. Ford, who is an active pilot and owns his own collection of vintage aircraft, was landing his own plane in Orange County, California, when he flew dangerously close to a commercial aircraft about to take off, according to reports. The Federal Aviation Administration will be investigating Ford's incident, and he could have his pilot's license revoked, but for the time being, it seems everyone came out of the incident unscathed.
Ford, who last had his license renewed in 2005, has been in love with flight for decades now, but didn't purchase his first plane until the 1990s. However, the Star Wars actor isn't new to plane accidents, having been injured in a 2015 plane crash when one of his vintage plane engines' experienced trouble during take off. According to reports at the time, Ford safely executed an emergency landing, only suffering minor injuries. As Ford was the only one aboard the plane during the time, no FAA investigations took place. However, since today's incident involved over 100 civilians, Ford's actions are required to be closely inspected by officials to make certain nothing out of the ordinary took place.
Ford, 74, was reportedly trying to land his plane on Tuesday afternoon, at the John Wayne Airport, and had gotten cleared for landing on a certain runway by air traffic controllers. However, Ford actually landed on a taxiway, flying over a passenger plane for an unknown amount of time.
According to a statement released by the FAA,
Air traffic controllers cleared the pilot of a single-engine Aviat Husky to land on Runway 20L at John Wayne Airport Monday afternoon. The pilot correctly read back the clearance. The pilot then landed on a taxiway that runs parallel to the runway, overflying a Boeing 737 that was holding short of the runway. The FAA is investigating this incident.
While this story is still currently developing, we do know that Ford was aware of the plane underneath him, as he allegedly asked the air traffic controllers, "was that airliner meant to be underneath me?" Ford's confusion may point to some sort of miscommunication that took place between Ford and the airport.
The FAA's investigation has yet to conclude, so the outcome of Ford's incident is still unknown. However, for now, it has been confirmed that Ford is safe, and unharmed, which is definitely good news.