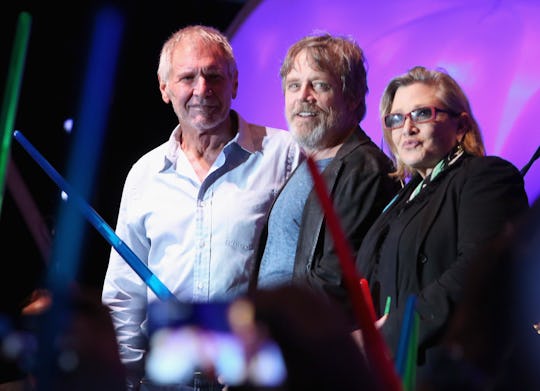 Jesse Grant/Getty Images Entertainment/Getty Images
Harrison Ford Reacts To Carrie Fisher's Death
Just as the year is coming to a close, 2016 took another celebrity near and dear to so many people's hearts. Star Wars actress Carrie Fisher past away on the morning of Dec. 27 after suffering a heart attack and going into cardiac arrest a few days earlier. Fisher is best known for playing Princess Leia alongside actor Harrison Ford, who played her love interest Han Solo, in the Star Wars franchise. The costars were also close friends off-screen and it's no surprise that Harrison Ford's reaction to Carrie Fisher's death brought many fans to tears.
Ford and Fisher first worked together in the 1970s when they filmed the first Stars Wars film, A New Hope. Since then, they've had a decades-long friendship that has spanned over the course of four movies. When the news came on Dec. 23 that Fisher had suffered a heart attack, Ford released a statement, saying he was "shocked and saddened to hear the news about [his] dear friend."
His fellow costar, Mark Hamill, who played Leia's brother, Luke Skywalker, in the films also felt the same way. After Fisher's passing, he simply tweeted, "No words #Devastated," along with a photo of the two as their iconic characters. These words already broke Star Wars fans hearts, but it was Ford's words that made Fisher's passing feel even more real.
"Carrie was one-of-a-kind," Ford said in a statement, as reported by E! News. "Brilliant, original. Funny and emotionally fearless. She lived her life, bravely." Additionally, he remarked that his thoughts were with Fisher's daughter, Billie Lourd, her mother, Debbie Reynolds, as well as "her many friends. We will all miss her."
George Lucas who wrote the original Star Wars films and was responsible for casting Fisher as Princess Leia, also released a statement about her passing.
"Carrie and I have been friends most of our adult lives," he said in a statement. "She was extremely smart; a talented actress, writer and comedienne with a very colorful personality that everyone loved. In Star Wars she was our great and powerful princess—feisty, wise and full of hope in a role that was more difficult than most people might think."
Lucas also sent his well wishes to Fisher's family, loved ones, and fans.
As fans, family, and friends continue to pour out their love for Fisher, it's already become clear that while she will be dearly missed, she will forever continue to live in people's hearts.