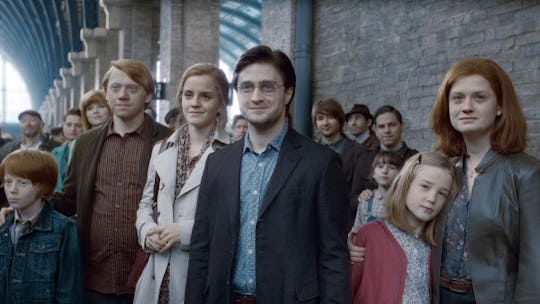 Warner Bros. Pictures
'Harry Potter & The Cursed Child' Cast Photos Prove Magic Is Real
It's all happening... After growing up with the books and the films by the same name, the continuation of Harry Potter lives on with the staged Harry Potter and the Cursed Child. Many people in the Potter world have waited and waited for this day, one of the most important days for The Cursed Child, no doubt, and here we are. The first cast photos for Harry Potter and the Cursed Child are here, and they do indeed prove that magic, wizardry, and everything in between are very much real.
The photos depict the future of the Harry Potter franchise. Fans will no longer have to wonder what Ginny, Harry, or Albus Potter will look like in the 19-years-after-the-pre-epilogue in Deathly Hollows. The photos — shown below — display Jamie Parker as Harry Potter, Sam Clemmett as little — but really, not so little — Albus Potter, and the strikingly similar Poppy Miller as Ginny.
The photos were released on Pottermore, the key to every Potter fan's dream world. While only some of the cast has been released, let's hope that the rest of the cast photos are released soon. Fans are certainly getting a little bit of love with the first three cast pictures, but we want more. I don't want to bite the hand that feeds me, but I'm going to start a revolt if I don't get my hands on a photo of the stunning Noma Dumezweni's Hermione, or Paul Thornley's Ron.
OK, without further ado, feast your eyes on the future Potter family.
Just look at them! They look decently happy before ~bad~ things are about to happen. Whatever, let's not think about the cursed part of Harry Potter and the Cursed Child. Let's just focus on the fact that Jamie Parker's scar is giving me all of the feels.