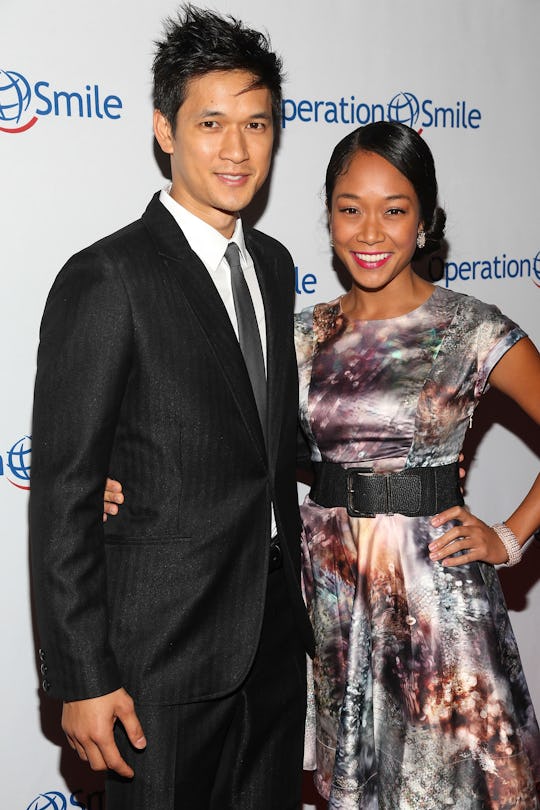 Imeh Akpanudosen/Getty Images Entertainment/Getty Images
Harry Shum Jr. & Shelby Rabara Are Expecting Their First Baby
Is it just me, or does it seem like there's been yet another celebrity baby boom within the past few months or so? (There must be something in the water at these award shows... ) Because it looks like yet another famous face has made a social media pregnancy announcement. And fans of the movie Crazy Rich Asians will be completely thrilled to learn that Harry Schum Jr. and Shelby Rabara are expecting their first baby.
Over the weekend, the Crazy Rich Asians star casually dropped a photo via Twitter and Instagram that said it all, as People reported. In fact, he didn't even both captioning the picture of his wife, dancer and actress Shelby Rabara. The shot features the former Glee actor standing behind his wife so his hands — strategically placed on his wife's belly — were the only part of him that's visible. Meanwhile, Rabara has her hands held up to her cheeks and is making an overly-exaggerated surprised face.
I mean, this could only mean one thing, right? There's a bun in that oven! At least, that's what the social media followers of Shum Jr. immediately concluded about the caption-less post. Take a look for yourself, and see what you come up with.
Over on Twitter, producer, actor, writer, and director Eugene Lee Yang quickly chimed in with, "This child will be more talented and better-looking than every other child in the history of children. The end." Shum Jr. replied only with three cry-laughing emojis.
Other followers were quick to offer their congratulations, as well. One Twitter user wrote, "I'm so happy for you guys The shum family is having a new member."
One Instagram follower commented, "Look out world! We're gonna have another dancing phenom come this time next year! #congrats on the baby news. 💃🕺🏻💫🍼."
As Us Weekly reported Rabara also shared images from the same photo shoot via Instagram. The first one features the mom-to-be cradling her bump while smiling down at it. In the second photo, a smiling Shum Jr. is standing behind his wife while resting his hands on her bump, as she also rests her hands on her bump — looking back at him with a big grin.
It's worth noting that merely three days before the couple's big announcement, Shum Jr. and Rabara celebrated 12 years of coupledom. "12 years with this guy and counting," Rabara wrote on Instagram, along with a photo of themselves. "Does Harry's hand look like he has 6 fingers or is it just me? #wheredoestimego ❤️." Simple math reveals that Shum Jr. and Rabara started dating back in 2006. After dating for eight years, they announced their engagement in March 2014 — which was actually five months after he proposed while they were vacationing in Hawaii, according to Us Weekly. The talented duo went on to exchange vows in December 2015 in Costa Rica, as E! Online reported.
I think it's safe to say that 2018 was a pretty epic year for Harry Shum Jr. Not only was part of the cast in the groundbreaking, all-Asian cast of Crazy Rich Asians, but the talented actor also learned he's going to be a dad. As awesome as the movie was, I have a feeling 2019 is going to be even better — because few things in life compare to holding your child for the very first time. Congratulations to the expecting parents!