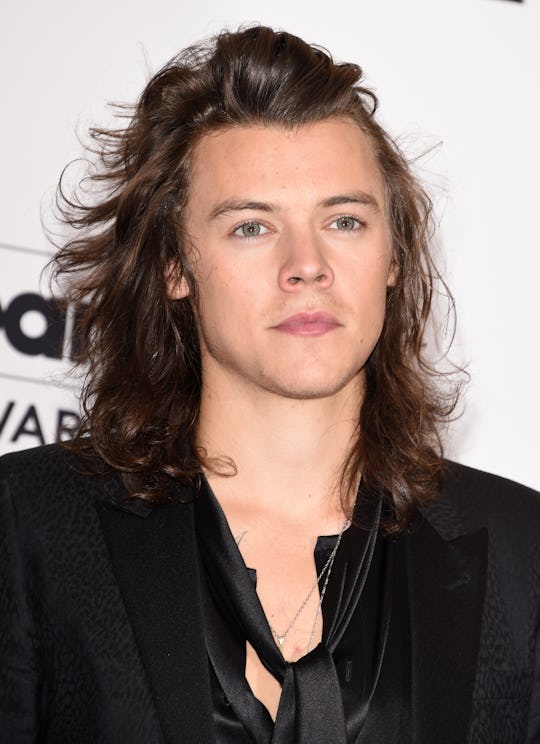 Harry Styles' Floral Suit At The AMAs Gave People A Lot Of Feelings
It's pretty much always a big deal when the members of One Direction walk the red carpet (because, you know, they're One Direction), but judging by all of the 1D-related comments on Twitter during the American Music Awards, it seems like tonight was extra noteworthy. Why, you ask? Harry Styles wore a white, floral suit to the AMAs. A white suit. With flowers. And also, it was flared. His interesting sartorial choice is straight off the runway at Gucci's spring 2016 menswear collection, and it's pretty safe to say that you probably have to be Harry Styles in order to pull it off. It was a risky choice, but not too surprising from Mr. "long hair, slicked back, white t-shirt," who is all about marching to the beat of his own drum. But if he was looking to make a statement tonight, it definitely looks like he succeeded.
While Twitter was buzzing with AMA red carpet tweets in general, chatter about Harry's suit was in a category of its own. Because, as with basically anything One Direction-related, people have opinions. Word got out about what'd he be wearing before he even arrived on the red carpet, and tweets naturally started flying (also, yes this is what it looks like and I am not even lying):
Naturally, people are loving it, because they love Harry Styles, and he can do no wrong:
But then there are the rest of us, who are wondering what he was thinking:
But hey, he's Harry Styles. You have to adore him no matter what he wears, right?
Image: Jason Merritt/Getty Images Entertainment