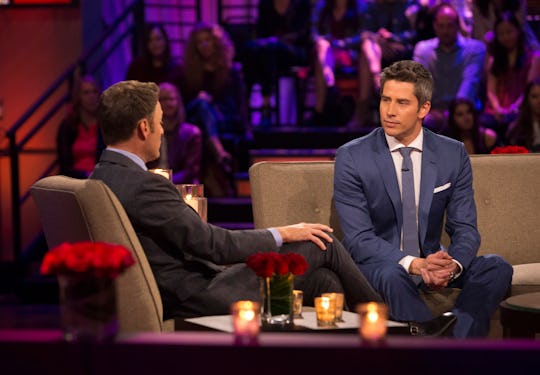 Paul Hebert/ABC
Arie Isn't The First 'Bachelor' To Have Second Thoughts About His Proposal
The finale of this season's The Bachelor was certainly explosive, more than any other I remember. But since I just started watching a few years ago I'm curious: has a Bachelor ever changed his mind before? After some research I found that the answer is actually, yes. Arie isn't the first Bachelor to believe he made a mistake the first time around — and I'm not even counting all those couples who break up shortly after the finale.
On Monday night's finale of The Bachelor, Arie initially proposed to Becca and she said yes. However, it seemed that remorse set it relatively quickly, though, because he ended up picking the runner-up, Lauren, instead after he had a couple of weeks to think things through. But Arie isn't the only Bachelor to make this bait-and-switch move. Jason Mesnick shocked Bachelor Nation almost a decade ago when he did something similar. Unlike Arie, though, Jason decided to ask to get back together with his runner-up on After the Final Rose.
Jason was the Bachelor on Season 13; he was a single dad viewers first met on Season 4 of The Bachelorette — DeAnna Pappas's season — but was ultimately not chosen. During his own Bachelor finale, Jason proposed to Melissa Rycroft, a former Dallas Cowboys cheerleader. The other woman, Molly Malaney, was left without a Neil Lane ring... but not for long.
On After the Final Rose, Jason broke up with Melissa (yes, on live television) because he was in love with Molly. Several minutes later, Jason turned to Molly and asked if she'd be willing to give their relationship another shot, which later resulted in the two of them tying the knot. And in true Bachelor fashion, Jason and Molly televised their wedding. To their credit, though, they are still married eight years later and have two children together, so it seems that Jason did the right thing by following his heart (but the way he did so — humiliating Melissa on TV — wasn't cool at all).
Jason became so infamous that his last name is now a verb. E! News called what Arie did to Becca "pulling a Mesnick." There are clear differences between Arie and Jason, though. After the Final Rose is filmed months after the proposal, so it seems that Jason sat on this for awhile (at least not telling Melissa that the reason he wanted to breakup was so he could be with Molly). Arie, on the other hand, broke things off with Becca long before the ATFR special — though he made sure to have cameras around when he did it, which was definitely not cool.
In an interview with HuffPost last year, Jason revealed that Bachelor producers orchestrated what happened on ATFR (which is probably obvious, but actually hearing it is kind of jarring). "The biggest thing [producers said to me prior to filming After The Final Rose] was, 'Jason, we [now] want Melissa to be the next Bachelorette," he told HuffPost. "We're going to let you ask Molly out, and you can't do that away from the camera because you're under a five million dollar contract [to not make contact with the runner-up].'"
Melissa never became the Bachelorette, so I wonder what will happen to Becca. It's very possible this could be setting her up to become the next Bachelorette. She certainly has a heartbreaking story now, making fans very likely to root for her to find love again. But either way, Melissa was able to get through the heartache, and I know Becca will too.
Check out Romper's new video series, Romper's Doula Diaries:
Watch full episodes of Romper's Doula Diaries on Facebook Watch.