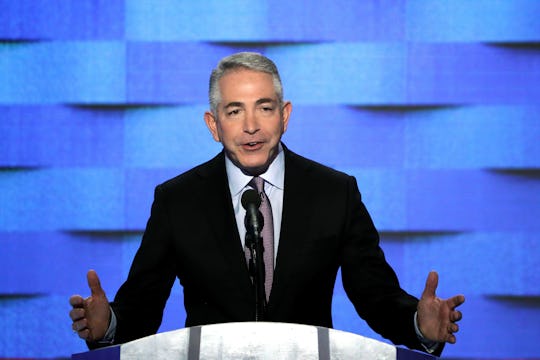 Alex Wong/Getty Images News/Getty Images
Has A Republican Ever Endorsed A Democrat At The DNC Before? Doug Elmets May Be The First
This election season has been insane, but on Thursday, a former Reagan advisor, the Republican Doul Elmets endorsed Democratic nominee Hillary Clinton. So has a Republican ever endorsed a Democrat at the DNC before? After much research (OK, maybe just some google-ing), it looks like this is one of the first times a Democratic candidate has had so many Republicans endorse her at a national convention. Because it wasn't just Elmets who sung the nominees's praises. Former Republican and New York City mayor Michael Bloomberg also endorsed Clinton this week.
Elmets said, "Donald Trump, you are no Ronald Reagan!" to a standing ovation. He said that he doesn't believe that Trump believes in real, Republican values. Elmets said, "Reagan famously said, "Tear down this wall! Trump wants to build one." "Right, he practically scoffed, "Like that's what America needs to be great again." His appearance and endorsement at the Democratic National Convention in Philadelphia shows that the Clinton campaign is serious about snagging some undecided, #NeverTrump Republicans.
Because Elmets was serious about his distaste for Trump and the state of the GOP this election year? "This year's Republican Platform is the most alarming I've ever seen," he said.
"I shudder to think where he'll lead this nation; Fortunately, I don't think he'll get that chance," he continued. Later, Elmets was followed by a handful of young Republican voters, who spoke about why they are voting for a Democratic candidate this year. Elmets certainly won't be alone in November, voting on the other ticket this year.
Elmets has been crusading against Trump since Texas Sen. Ted Cruz lost the Indiana primary, giving Trump the delegates he would need to win the nomination. "Reagan ran on hope and Trump is running on fear. And what we've seen is that the Republican Party has been hijacked by Donald Trump and is now what I equate to the party of Trump," Elmets said.
It's not uncommon for Republicans to attend the Democratic convention (and vice versa) and probably vote for a Democrat. But this year, they have been more vocal than ever, and it was a pretty crafty move on the DNC 's part to get so many to speak out against him at the convention and make it OK to vote for the other team side.
Only time will tell to see if it worked.