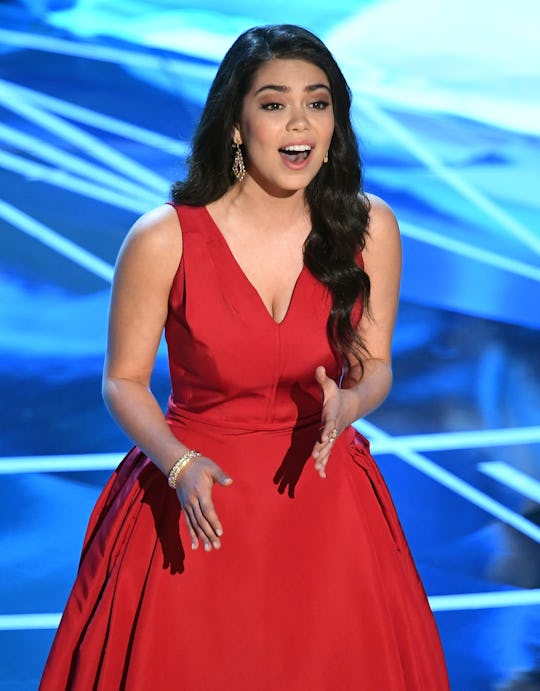 Kevin Winter/Getty Images Entertainment/Getty Images
Has Auli'i Cravalho Ever Performed On Broadway?
I've never been a fan of the Oscars. I don't go to the movies often, and the whole ceremony tends to just feel pretentious. But there was one moment during this year's awards that stood out as a breath of fresh air: Auli'i Cravalho performing "How Far I'll Go" from the Disney animated film, Moana. At just 16 years old, Cravalho handled the performance with such grace that it seems like there's no way she's never performed on stage before. So this begs the question: has Auli'i Cravalho ever performed on Broadway?
It's definitely surprising that Cravalho has never done professional theater before. As it turns out, like her character Moana, Cravalho has lived in Hawaii her entire life. "I've grown up on an island all my life — so has she — and we're both deeply connected to our culture," she told Harper's Bazaar.
Cravalho was new to everything — from auditioning to recording lines for the film — because Moana was her first role ever. Cravalho may not have ever performed in the theater before, but that doesn't mean she's a novice to singing. Cravalho told Harper's Bazaar:
I think I've always been singing. I actually credit my singing voice to my mom because she wouldn't give me a pacifier when I was a baby, so I screamed and screamed and screamed and I developed wonderful lungs.
Cravalho's Oscar performance is especially amazing when just last year she told film news site Coming Soon that she needed the studio lights to be dimmed so people couldn't see her when she recorded songs for Moana.
I think that, when you're singing, a message is carried in a different way. I don't know if that emotion needs a melody. I'm not sure. When I would sing, I needed the lights to be turned down a little bit...I think it's because I didn't want to feel like people were watching me.
But if she was nervous on stage, I sure couldn't tell.
Cravalho was part of the glee club in high school, according to an interview with People magazine, and wasn't shy about sharing her voice online. That's where she was discovered by a Disney talent scout. "My friends and I decided to put together a totally separate audition to become the entertainment for a non-profit event. We put together this awesome a cappella mash-up of songs we love, with beatboxing and harmonies," she told Harper's Bazaar.
Cravalho was the belle of the Oscar ball after performing with Moana's composer Lin-Manuel Miranda, and just days later Deadline reported that she will star in the pilot for NBC's Drama High.
The show is about a high school drama department and is being produced by Jeffrey Seller, of Hamilton fame. Let's hope Cravalho will get to sing a big number (or five) on the show.
So with two people from Broadway's biggest hit behind her, it's safe to say it's only a matter of time until we see Auli'i Cravalho's name in huge movies, shows, or maybe even Broadway hits.