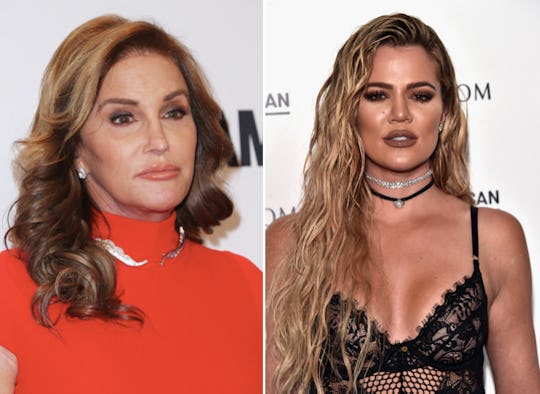 Frederick M. Brown/ Getty Images, Alberto E. Rodriguez/Getty Images
Now That Khloé Kardashian Is Back In L.A. With Her Family, Has Caitlyn Jenner Met Baby True?
After spending months in Cleveland after giving birth to her daughter, True Thompson, on April 12, Khloé Kardashian is officially back in Los Angeles with her family and friends, with her baby girl in tow, of course. Some Kardashians have already gotten the chance to meet the family's newest member — like mom Kris Jenner and sisters Kim and Kourtney Kardashian as well as Kylie Jenner — but what about Khloé's stepdad, Caitlyn Jenner? Has Caitlyn Jenner met Khloe's daughter, True Thompson yet? Given their tumultuous relationship in recent years, it seems unlikely and here's why.
In February 2018, Khloé appeared on the U.K. show Lorraine where she answered questions about her plans for baby True and Jenner, according to ELLE. When interviewer Ross King asked if the new baby could be cementing for their relationship again, she replied firmly, "No," according to ELLE. Khloé continued, "I don't think that affects anything with Caitlyn. No, yeah, [things are] just as they are."
Of course, it's possible that Khloé has changed her mind since giving birth and hasn't felt the need to fill in her fans. But anyone who's watched Keeping Up With the Kardashians knows that Khloé is a notoriously determined person; she makes decisions and sticks by her convictions. And there is a lot of water under the bridge between Khloe and Jenner, according to Cosmopolitan, all starting about three years ago.
Things began to get icy with between Khloé and Jenner following her 2015 interview with Vanity Fair, during which she revealed her transition in. Khloé took issue with some of Jenner's comments about her ex-wife, Kris Jenner, as reported by Cosmopolitan. Later that year, Khloé told Ellen DeGeneres on her show that she was hurt that she found about Jenner's transition on camera, rather than face-to-face, according to the Daily Mail. Khloé got more explicit about her anger on the Howard Stern Show in January 2016, which prompted an angry response from Jenner. Things have continued to be tense between the two ever since, it seems.
Still, if tabloids are to be believed, it seems like Jenner wants to meet her new granddaughter. Life & Style reported that Jenner had been shopping and has a house full of baby gifts, just in case something were to thaw the ice between the two. Reports have even circulated that Jenner has decided to make an end-run around the new mom. Radar Online reported that Jenner had contacted True's father, Tristan Thompson, to reinforce how much she'd like to meet and get to know the new baby. A source reportedly told Radar Online that Thompson felt bad for Jenner and apologized for Khloe's behavior.
Khloé hasn't made a public statement about Thompson's alleged cheating scandal, which rocked her family just days before True was born. (Romper's requests for comment from both their reps regarding the allegations have not yet been returned.) However, she did include him in the one and only Father's Day message she posted on her Instagram Story. The photo showed Thompson's hand holding True's and is simply captioned, "Happy Father's Day". Since her return to L.A. the couple has been spotted together several times, according to People. They've been going out for meals together and even took in a Dave Chappelle show, so it appears the young family is still very much together
Over the years, the Jenner and Khloé have tried to talk things out a few times. As recently as April 2017, KUWTK viewers got another look at one of these meet-ups. Khloé explained, according to ELLE, that she felt she'd never been given time to deal with the loss she felt of her relationship with Bruce Jenner. "For me, you're all I remember Bruce was. So not having you in my life, it's a huge blow because I'm like, 'Okay, my second dad, this guy that I've grown up with, that raised me, was taken away from me,' but no one really let me have that [time to process it]." Later in the year, Jenner appeared on Watch What Happens Live and told Andy Cohen that it had been a long time since she'd spoken to Khloé, according to ELLE. "She doesn't want to talk to me. She hasn't talked to me in, like two years."
So while a new baby may seem like just the right thing to bring a family together, the alleged drama with Thompson that has already surrounded True's birth may just be too much for Khloé to tackle anything else. Right now, it may just be good for her to be home with baby True and the rest of her family.