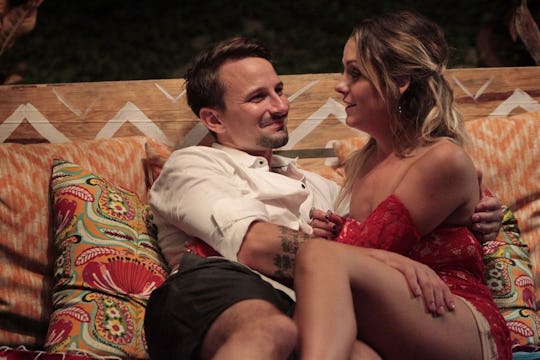 Rick Rowell/ABC
Has Carly Met Evan's Kids After 'Bachelor In Paradise'? His Family Might Add Someone
Early rumors and speculation have said that Evan Bass and Carly Waddell will be one of the couples to last on Bachelor in Paradise. At the beginning of the season, if someone had told me this, I would have laughed in their face. But now the two of them are closer than ever, and Carly has admitted that she's falling in love with "the penis man." If these two crazy kids are still together and engaged, you've got to wonder, has Carly met Evan's kids after Bachelor in Paradise? Well if she's about to become a part of their family then I can't imagine why she wouldn't have.
Unlike with Grant and Lace and Amanda and Josh, there have been no paparazzi photos of the two of them out together, or Carly with Evan's kids. Basically, the two of them have been a little bit better about keeping their relationship under wraps than the other couples, but the cat's pretty much out of the bag in any case. The post has since been deleted, but Carly at one point posted to Instagram from the same kitchen that Evan had posted on his Instagram. Presumably, this means that Carly is spending a lot of time in Evan's kitchen, in his house, where his kids are probably.
As Real Housewife of Orange County Meghan King Edmonds will tell anyone who will listen, marrying a man with kids is a big deal. Suddenly you are a part of a family, and are in some ways responsible for these little beings that you did not help to create. If Evan and Carly are indeed getting married, I find it hard to believe that she wouldn't have met them by now. Evan has three sons, but that's pretty much all we know about them right now. Evan is pretty young, so we can assume his boys are little, but we can't tell for sure. Whatever else he is, Evan is a protective father and he's committed to keeping his children's lives private, which I definitely respect. There are no pictures and hardly any information about his kids or their mother on his social media, which seems to imply that he prefers the privacy route when it comes to his offspring.
We might not get a glimpse of the boys until the (hopefully) televised wedding, but I feel fairly confident that Carly at least has — assuming they are still going strong.