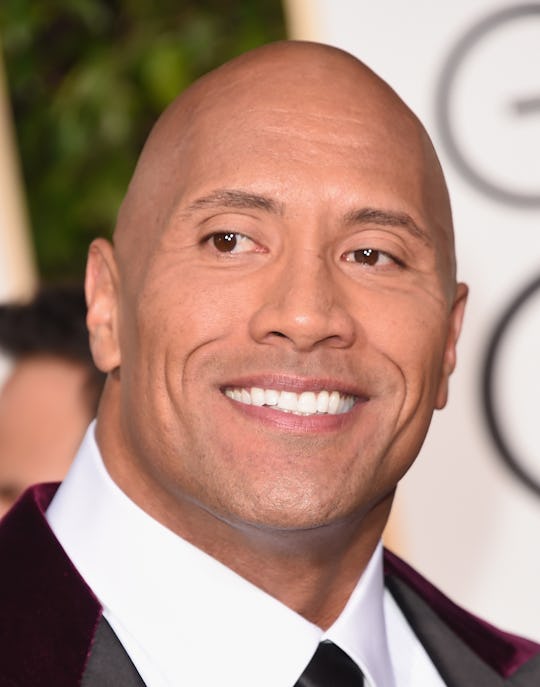 Jason Merritt/Getty Images Entertainment/Getty Images
Has Dwayne "The Rock Johnson" Hosted The MTV Movie Awards Before? He's An Excited Newbie
With the epic 25th anniversary of one very popular awards show fast-approaching, many fans are wondering whether emcee Dwayne "The Rock" Johnson has hosted the MTV Movie Awards in the past or whether it will be his first big opportunity to man the mic at the Warner Brothers Studios in Burbank, California. While it certainly seems like the infinitely gregarious actor and former pro wrestler would be a regular on the awards show circuit, this will actually be his first time hosting. Lucky for him, his co-host will be actor Kevin Hart, who has previously hosted the 2012 MTV Video Music awards and the 2011 BET Awards, according to People.
The two actors should certainly be a dynamic duo, especially since they're friends and co-stars in the upcoming espionage comedy, Central Intelligence. "It's an honor to be hosting the MTV Movie awards with a guy who's not only one of the funniest guys on the planet, but who's often mistaken as my twin, Kevin Hart," Johnson said in an interview with Variety. Hart is likewise psyched with the pairing, telling Variety that "Dwayne and I are the perfect team for the epic 25th anniversary show. It's going to go down."
While both Hart and Johnson are prone to enthusiastic exaggerating, it seems that, indeed, this year's awards will be epic. For the first time ever, the awards will be pre-filmed on multiple stages on the Warner Bros. lot, in a style similar to recent live television events like Fox's Grease: Live. This will be the first awards show to experiment with this format.
Casey Patterson, the show's executive producer, told Variety that the scope of the show will be huge. Hart and Johnson were chosen for this major role, in part, because of the natural chemistry the two have as both bros and colleagues. "They organically have so much fun together," Patterson said. " ...We love Kevin and Dwayne for doing big, risky, bold things. Most award shows play it safe. They're the right guys to take big swings."
So, what types of "big swings," precisely, should viewers expect? The details remain unclear, but according to Patterson, the production will be very "theatrical," and there will be a large audience at each location.
Given Johnson's background as a wrestler/performer with World Wrestling Entertainment (WWE), it's easy to imagine why he's a good fit for this role. Getting a crowd riled up is pretty much what pro wrestling is all about. Indeed, just this week, Johnson's participation in WrestleMania, an annual pay-per-view event, helped smash the event's attendance record.
While the MTV Movie Awards might be a bit less... physical... than WrestleMania, they will be equally as exciting. Johnson himself has been the first to argue this, saying in a statement that he promises to make it "an epic, historic unforgettable night" for fans. MTV also wrote in a statement that this year's awards, which will be filmed entirely outdoors, will "capture the essence of moviemaking magic against a dramatic nighttime backdrop."
The one drawback is that in order to capture the "essence of moviemaking magic," the network decided to pre-film the event on the evening of April 9, while the event will air on MTV on April 10. Nevertheless, with Johnson and Hart at the helm, the excitement inherent to live events will certainly be superseded by the pure magic of their combined charisma.