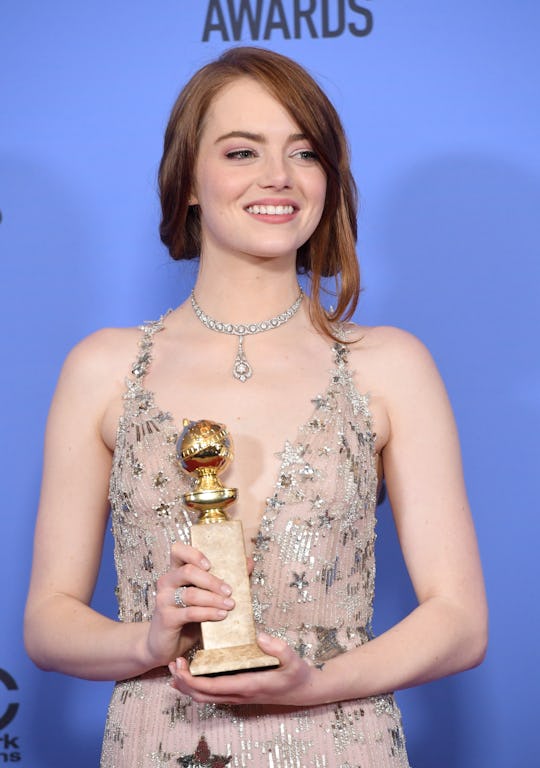 Kevin Winter/Getty Images Entertainment/Getty Images
Will Emma Stone Snag A Second Oscar Nod?
It's only Monday, and it's been a tough week already for anyone keeping up with politics. But fear not! The Oscar nominees will be announced on Tuesday morning, and everyone is predicting a big year for La La Land, the widely-loved musical that makes us believe in musicals again. It's likely that Emma Stone, the film's female lead, will be nominated in the lead actress category. Which leaves many of us to wonder: Has Emma Stone ever been nominated for an Oscar before?
As it turns out, this will likely be the 28-year-old's second time at the rodeo, because she was nominated in 2015 in the best supporting actress category for her role in Birdman. She lost that Academy Award to Patricia Arquette, who was nominated for her role in the unforgettable Richard Linklater drama, Boyhood. This year, though, it seems that Stone is likely to win. The Los Angeles Times has predicted an easy win for Stone — and this prediction came before affirmation that she's even been nominated. Thelma Adams, a film critic, told ABC News that Stone is the "safe choice" for the best actress category, though she might face competition from 63-year-old French actress Isabelle Huppert for her role in Elle.
Interestingly, Stone and Huppert were able to avoid a head-to-head matchup at the Golden Globe Awards in January because they were nominated in different categories — Stone for the Best Actress in a Musical or Comedy category, and Huppert for the Best Actress in a Drama category. But come Feb. 26, when the Academy Awards will broadcast live on ABC, we'll find out which actress will snag the Oscar.
If Stone wins, she'll be adding a new statue to the truly dizzying array of accolades she's already received. According to a record of Stone's nominations and awards at IMDB, the actress has won 47 acting awards, ranging from her 2011 MTV Movie Award win for Easy A to her 2012 People's Choice award for Favorite Movie Actress. In addition to these wins, Stone has been nominated 103 times for acting awards.
This level of success is perhaps not surprising for someone who moved to Hollywood at the age of 15 after several prolific years acting onstage at the Valley Youth Theatre in Phoenix, Arizona. According to The Daily Mail, the young Stone would audition for every production at the theatre, and she acted in 16 production between the ages of 11 and 15.
When Stone learned that she'd been nominated for an Oscar back in 2015, her reaction was priceless: "I am so f--ing excited," she wrote in a statement. "I'm just really f--ing excited." Here's to hoping that her reaction to a 2017 nomination will be equally as colorful.