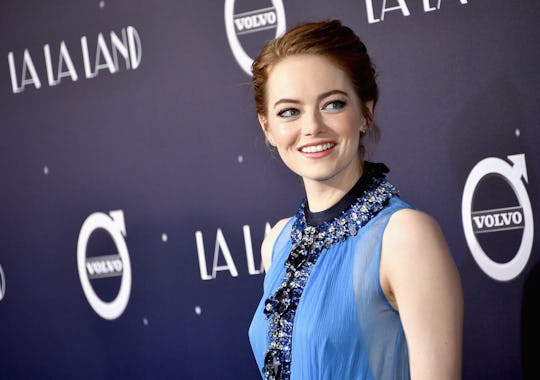 Mike Windle/Getty Images Entertainment/Getty Images
Has Emma Stone Won A Golden Globe Before? The Actress Is A Top Contender This Award Season
Emma Stone has been very busy schedule. The Easy A starlet hosted Saturday Night Live recently, all while promoting the new Lionsgate film La La Land. Watching the actress sing and dance with Ryan Gosling will make everyone susceptible to falling in love this holiday season. In fact, many have already fallen for Stone, being that her silly quirks are hard to resist. It's no question that Stone is an awesome actress, giving us a new take on Gwen Stacy in The Amazing Spiderman, voicing The Croods' Eep, and rumored to become Disney's next Cruella De Vil, but has Emma Stone ever received a Golden Globe for her filmic efforts?
No, but the 28-year-old has been nominated, and that's saying something. She received nominations for "Best Actress in a Musical or Comedy Motion Picture" for Easy A in 2011, and "Best Supporting Actress in a Motion Picture" for Birdman in 2015. So, who knows what will come her way in the future. She is still very young, as is her career, so there is a real possibility she will join the ranks of Leonardo DiCaprio, and other successful actors soon enough. She's already won two Screen Actors Guild Awards, and La La Land should help propel her recognizable standing even further.
Still, even as the red-head sings along in La La Land's golden age of Hollywood, I will always remember her randomly bursting into song as Olive in Easy A. I can hear her now in the shower as she spikes her hair, "I've got a pocketful, a pocketful of sunshine."
The actress is real and wacky, and those qualities are what shine through her performances, and make her so likable. On top of this, she's also incredibly daring when it comes to the roles she takes on. The gifted beauty's next steps should be impressive ones if they prove to be anything like her last.