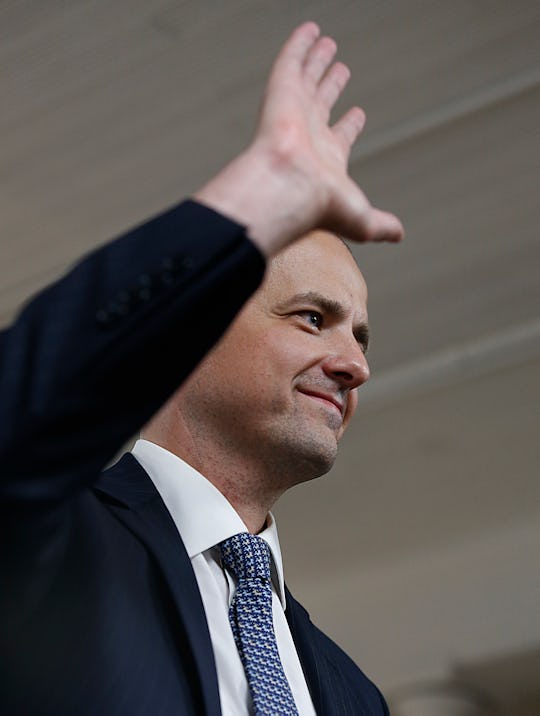 George Frey/Getty Images News/Getty Images
Has Evan McMullin Always Been Mormon? The Candidate Seems Devoted To His Faith
Republicans who can't stomach Donald Trump, hate Hillary Clinton, and are increasingly worried about Libertarian candidate Gary Johnson's "Aleppo moments" are beginning to pay attention to a man who seems like their final hope, Evan McMullin. The former CIA agent is running as an Independent candidate, and he may actually have a chance of winning Utah, in part because of his Mormon background. But has Evan McMullin always been Mormon? He certainly has, and consequently has lived a very different life from the Republican nominee, whose relationship to his Christian faith has been a bit more complicated.
McMullin is about as Mormon as a Mormon can be. According to a Washington Post article, McMullin grew up in a religious Mormon family in Washington State (although he was born in Utah). He went to the Mormon-run Brigham Young University, then did his traditional two-year Mormon mission in Brazil before joining the CIA. Later he even volunteered for Mitt Romney, another famous Mormon politician, when Romney was campaigning. Plus, according to the article, McMullin has "never had a drink or done drugs."
Even his reasons for running for the presidency seem to be informed by his Mormon faith. Newsweek described Mormon theology in a 2005 article by saying, "Everyone is empowered in some way to do good to others... it is a 21st-century covenant of caring. This caring is not limited to Church members alone, but extends far beyond."
And when CNN talked to McMullin about why he'd decided to run in such an ugly election, he said,
We're standing for what is right and decent and true, when we believe no one else was. Cynical people in Washington dismiss that as being an effort without merit or value. But I couldn't disagree more. The abandonment of conservative ideals -- universal ideals, like the idea we are all created equally and the cause of life, liberty and the pursuit of happiness -- those have been abandoned in this election. So we felt like we needed to step up.
As unlikely as it seems, McMullin might actually have a path to the presidency. A recent poll has him nearly tied with Trump in Utah. If he manages to garner that state's electoral votes, and neither Trump nor Clinton gets the required 270 votes in the electoral college to win outright, the House of Representatives gets to decide the winner of the election out of the top three vote-getters. McMullin will have a chance to make his case, and in a year where so many Republicans are disillusioned with their nominee, who knows what the Republican-dominated House might do?
Of course, the odds of that happening are miniscule. Looks like America will probably have to wait to make history with its first Mormon president, and perhaps make history a different way first.