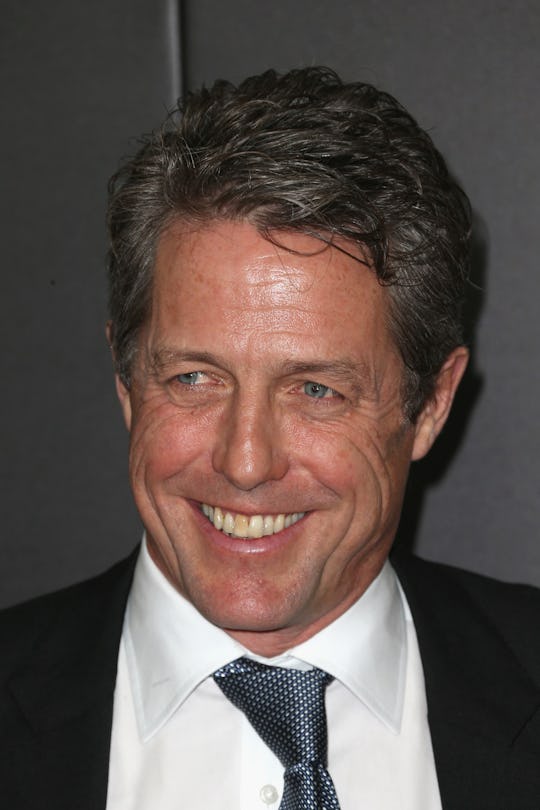 Frederick M. Brown/Getty Images Entertainment/Getty Images
Could Hugh Grant Finally Receive An Oscar Nod?
For those who have been keeping an ear out for Academy Awards predictions, it's clear that English actor Hugh Grant hasn't been a big part of the conversation. More recently, though, Grant's name keeps coming up as a possible contender for a best lead actor nomination. But has Hugh Grant ever been nominated for an Oscar? Despite his long and storied career in Hollywood, this would be a first for the 56-year-old actor.
Grant's potential Oscar nod would be for his role in Florence Foster Jenkins, a film about the true story of a New York socialite who sought to be an acclaimed singer despite having a terrible voice. Jenkins herself was played by Meryl Streep, who might receive her 20th Oscar nomination for the role, while Grant played St. Clair Bayfield, Jenkins' husband. When the movie was released in August, Variety hailed it as a likely Oscar contender in a number of categories, including Grant for best lead actor. Praising Grant's performance, Variety critic Jenelle Riley wrote, "Not every actor can hold their own against Streep. In fact, it's hard to remember a male co-star who really stood out in recent years... He [Grant] not only holds his own against the Greatest Actress in the World™, he steals scenes."
After this initial bout of praise, though, talk about Grant's performance was overshadowed by performances like Ryan Gosling's in La La Land or Casey Affleck's in Manchester by the Sea. Indeed, critics at publications like The Los Angeles Times, Yahoo! Movies, and Vox are predicting Grant will be passed over in favor of Gosling and Affleck, along with other front-runners like Denzel Washington (Fences), Viggo Mortensen (Captain Fantastic), and Andrew Garfield (Hacksaw Ridge).
Despite this, Grant is still in the running. The role earned him a Golden Globes nomination this year for Best Actor in a Musical or Comedy, and he has received numerous other nominations and awards for the role, including a nomination for the 2017 Screen Actors Guild Awards (SAG). Interestingly, Grant was nominated in the supporting actor category for The SAG Awards, despite his nomination for the same role in the lead actor category at the Globes.
It's possible, then, that the Academy will follow suit by nominating Grant for a supporting actor Oscar — despite the fact that Grant's character is clearly the lead male counterpart to Streep's role. Critic Sean Fennessey at The Ringer sees Grant as a possibility for a supporting actor nod, but he hopes it won't happen, writing,
Hugh Grant is actually terrific in Florence Foster Jenkins... He is a gifted seriocomic performer with more depth than he's given credit for. But this movie is a trifle, and the prospect of his seizing the "We've always liked him and are glad he turned things around" winning narrative at the expense of Mahershala Ali would be deeply unfortunate.
With the Oscar announcements expected on Tuesday morning, we'll find out soon enough whether Grant will receive his first Oscar nomination.