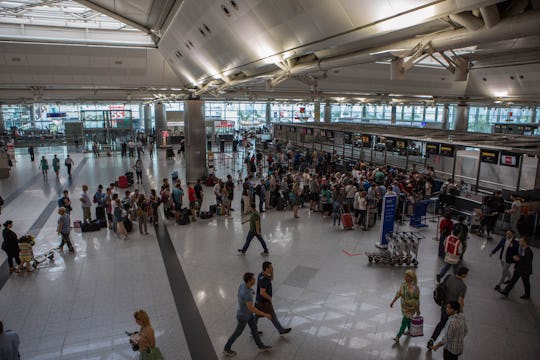 Gokhan Tan/Getty Images News/Getty Images
Has Istanbul Ataturk Airport Re-opened? It's Business As Usual Inside The Major Travel Hub
An attack left dozens dead in Istanbul on Tuesday, after three terrorists set off explosions and shot into a crowd at Ataturk Airport. The attack, which has been blamed on ISIS (the group has not yet claimed responsibility), left at least 42 people dead and many more fearful of terrorism, especially with this upcoming three-day weekend being a major one for U.S. citizens, travel-wise. But after the attack at the airport, many are wondering: Has the Istanbul Ataturk Airport reopened, or do you need to change your travel plans?
According to NBC News, the airport has in fact reopened as of Wednesday, just five hours after the attacks occurred. The attack killed many, but injured hundreds more — sending 230 travelers in the airport to hospitals. After the airport opened, according to NBC, crews cleaning up after the attack mixed with travelers trying to get through the airport.
While it might appear strange that the airport has opened so soon after the attacks — it isn't. The Ataturk Airport, according to CNN is one of the busiest airports in the world — the 11th busiest airport, to be exact. And according to NBC, it's one of the most secure, too, despite the attacks on Tuesday. Airport passengers are subject to security screening before entering the terminal, and they're checked again once they're inside the terminal.
The attackers might have been able to make it past security by going through the arrivals hall, CNN reported. This is a place where security is not as strong and a way for the attackers to exploit weaker security measures.
As previously noted, ISIS has not yet claimed responsibility for the attacks, but due to Syria's proximity to Turkey and similar attacks carried out by ISIS, many believe it is responsible. This attack bears resemblance to a terror attack that happened in Brussels, Belgium back in late March. Two explosions in the airport left 32 people dead and ISIS was to blame. In turn, security measures at airports all across Europe became stricter.
With this upcoming Fourth of July weekend being very travel-heavy, NBC News reports that U.S. officials are stepping up security measures of their own — both to prepare for worst case scenarios but also to reassure travelers that they are being kept safe.
If anything, this proves that a terror attack can't bring down one of the busiest airports in the world. People will continue to travel and airports will continue to remain open, despite terror attacks and threats of harm — as they should.