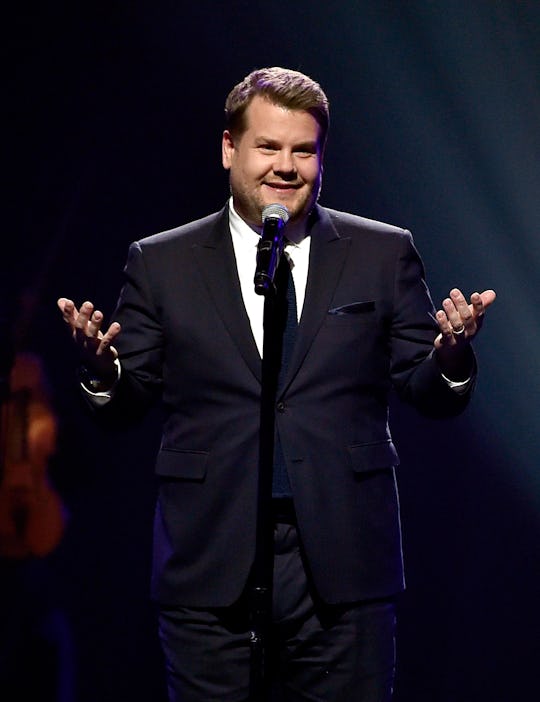 David Becker/Getty Images Entertainment/Getty Images
Has James Corden Ever Won A Tony Award? The Host Is Very Qualified
When it comes to James Corden, most people know him as the current host of The Late Late Show, but there's much more to Corden than just his successful talk show. Before he was keeping us all up late with Carpool Karaoke videos, Corden was running the stage. He started his acting career on the stage before transitioning into television, but even after making his way to screen, Corden always returned to his first love: theater. But, has James Corden ever won a Tony Award? Well, the host is very qualified for his new role.
In 2011, Corden began playing the lead role as Francis Henshall in the comedy play One Man, Two Guvnors, which eventually made it's way to Broadway and earned Corden a Tony Award in 2012 for Best Lead Actor in a Play. It's no surprise then that Corden was asked to host the Tony Awards this year, not only is he hilarious, but he's also not new to Broadway and knows his way around the stage.
This became even more evident during his latest Carpool Karaoke segment Corden brought in some of Broadway's best and brightest, including Tony winner and star of Hamilton, Lin-Manuel Miranda, six-time Tony Award winner Audra McDonald, the star of Fully Committed, Jesse Tyler Ferguson, and Tony winner Jane Krakowski.
The group of five joined together to sing some classic songs like "Can't Take My Eyes Off of You" by Frankie Valli and then of course they did some popular Broadway tunes, including "Seasons of Love" from Rent and "One Day More" from Les Misérables. If you don't get chills when McDonald hits that high note at the end you're probably not human, in all honesty.
Corden also asked his Broadway friends for tips and advice for what to do while hosting the show. McDonald told him to just make the night fun because it's a long night and everyone just wants to have a good time. She also mentioned that if he wanted to do a song, the audience would definitely sing along. Here's to hoping we'll be blessed with a sing-along by Broadway's hottest stars during the Tonys. Just imagine all the melodies that could be done!