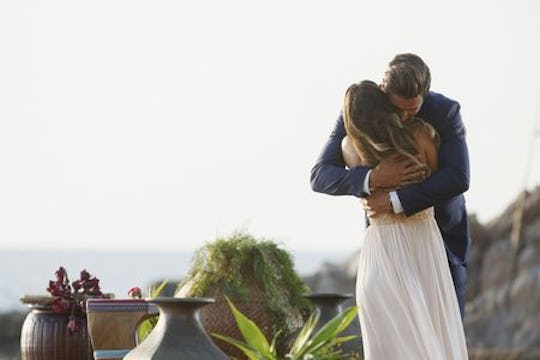 Matt Klitscher/ABC
Has JoJo Met Aaron Rodgers After 'The Bachelorette'? It's Not Their Main Focus
Since the beginning of JoJo's season of The Bachelorette, her now-fiancé Jordan Rodgers has been dogged with rumors about a rift in his family. During the couple's hometown date, Jordan's famous brother Aaron Rodgers was very much present in spirit, even if he wasn't actually there. Frankly, everyone talked more about Aaron than they did about Jordan or JoJo. On After the Final Rose, Chris Harrison asked if since their engagement the family feud has softened at all. Has JoJo met Aaron Rodgers after The Bachelorette? The couple awkwardly dodged the question.
After weeks of silence, Aaron finally did address The Bachelorette recently, saying only that he felt it was inappropriate to air family drama on television in such a public way and that he wished his brother well in "the competition." Rather hopefully, Chris Harrison asked JoJo and Jordan if maybe something good had happened since they had gotten engaged, and the brothers had started speaking again. Jordan said some words, but I'm not sure if any of them actually came together to form a concrete thought. JoJo jumped in and said, "It's not the focus for us right now." Jordan joked, "We've got furniture to buy..."
JoJo admitted that she hadn't met Aaron yet, but that she is becoming closer with Jordan's family, as Jordan is with hers. The couple is excited to move to Dallas, which will be closer to JoJo's family, which they both seem very happy about. The moment didn't last much longer than that, with Chris reiterating his hope that "maybe something good can come of this," and he wished Jordan's family well.
Of course, we already know that Jordan's other brother Luke is looking forward to introducing JoJo to some of the family's favorite movies. Luckily, she and Jordan both listed Wedding Crashers among their favorite movies on their ABC bios, so their tastes probably align at least. If JoJo and Jordan do end up going the distance, as they definitely plan to do, it's unlikely that JoJo will never meet Aaron. While it's possible that the estrangement has something to do with Aaron's girlfriend Olivia Munn, nothing has actually been confirmed by the family. The rest of us can only hope it all resolves itself soon. In the meantime, JoJo and Jordan have furniture to buy.