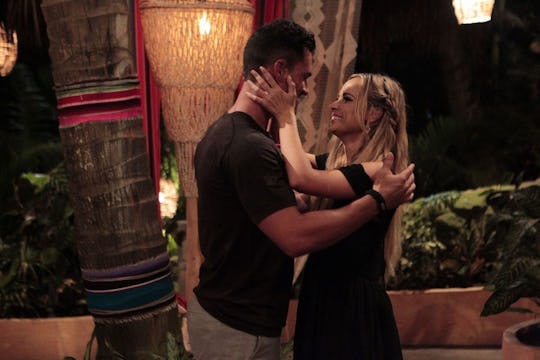 Rick Rowell/ABC
Has Josh Met Amanda's Kids? The 'Bachelor In Paradise' Star Wants A Big Family
On Bachelor in Paradise, Josh Murray and Amanda Stanton have moved pretty fast: it wasn't long after they first met that they connected in a serious way, and they've been on each other's teams ever since. Despite any problems that have come up or questions from their cast members about Josh's intentions, Josh and Amanda have remained certain about their relationship. The show has finished filming and they're still together, with many assuming that they are one of the three couples that gets engaged in the finale. But considering Amanda has children from a previous marriage, introducing Josh into her family could be a little bit of a tricky situation. So has Josh met Amanda's kids after Bachelor in Paradise?
Josh and Amanda have already moved in together, so if he hadn't met them that would be a very confusing living situation. From all accounts it seems like Josh is getting along well with Amanda's two daughters, Kinsley and Charlie, who are four and two respectively. The couple recently took the two girls to a fair in Orange County and on vacation in Palm Springs. They also took a trip to the Kansas City Chiefs Field in Missouri, where Josh and the girls were seen running around together. While any family adjustments are likely being kept personal because the girls are so little, from an outside perspective everyone appears to be getting along well.
Josh was excited to meet Amanda's kids early on in the filming of Bachelor in Paradise, telling Entertainment Tonight, "I cannot wait to meet her kids. I've been begging this whole time. I wish they would fly them out here but we're gonna try and set something up as soon as possible when I get back." He went on to talk about what an amazing mother Amanda is, and mentioned that more kids were already a possibility for the two of them, perhaps "maxing out at three more."
Josh loves kids and is interested in having a big family, something he said he always wanted. Amanda concurred that they were after the same things and that Josh would be a good dad. "We're kind of just on the same page with everything," she said. "Family's the most important thing to the both of us. We're just kind of looking for a simple life."
Meeting on reality TV and getting engaged in front of an audience of millions: the simplest of simple lives.