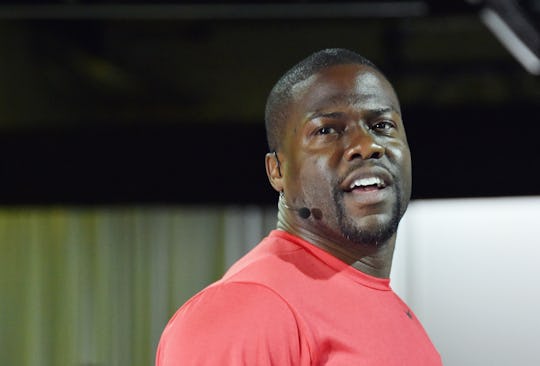 Mike Coppola/Getty Images Entertainment/Getty Images
Has Kevin Hart Ever Hosted The MTV Movie Awards Before? His Hosting Skills Could Make The Show
Comedian Kevin Hart is one of the hardest working and most successful people in show business. So it probably wasn't a shock to anyone when it was announced that he and his Central Intelligence costar, Dwayne "The Rock" Johnson, will host the 25th anniversary MTV Movie Awards, which air on April 10 at 8:00 p.m. Hart is so familiar and ubiquitous on movie and TV screens that it's hard to remember just what he hasn't appeared in. Has Kevin Hart hosted the MTV Movie Awards before? Nope. But it might be confusing to viewers because at last year's awards show Hart was a high profile audience member, getting ribbed by more than one star about his height — most notably by last year's host Amy Schumer, who presented Hart with the Comedic Genius award.
This year's MTV Awards will be unlike others in the past because they will honor the award show's quarter-century milestone. This year's awards will be held outdoors at the Warner Bros. studio, for example. Hart and Johnson also had a little fun interacting with fans in February by taking direction on social media from everyday viewers about what they should do in the MTV Awards promos, which are always some of the funniest moments of the show.
Here's just a taste of the two taking some pointers from fans.
Besides Hart and Johnson, MTV is promising a huge lineup of stars, including Will Smith, who might have been snubbed at this year's Oscars, but will be receiving the awards' highest honor of the night, the Generation Award. And presenters will include Charlize Theron, Chris Hemsworth, Jessica Chastian, Seth Rogan, Zac Efron, Olivia Munn and Gigi Hadid. MTV will also tease an exclusive sneak peek clip from the upcoming movie Captain America: Civil War for superhero fans out there.
So, what can fans expect from this year's broadcast and its two talented hosts? Fans have a few items on their wish lists. Take this solid suggestion, for instance.
Yes, let's make that happen. It might look a little something like this shot from Central Intelligence.
Regardless of what Hart has up his sleeve for this weekend's awards show, you can bet he'll bring it with his trademark high octane energy and hilarious take. Don't take it from me, Hart himself is making some pretty big promises for a good show.
His secret to success? Turns out it's not really a secret at all. In fact, he tells fans right in his Twitter profile what makes him great.
"My name is Kevin Hart and I WORK HARD!!!" he wrote. "That pretty much sums me up!"
I'm looking forward to watching the talented Hart and his gigantic sidekick Johnson bring the laughs on Sunday night. It should be pretty epic.