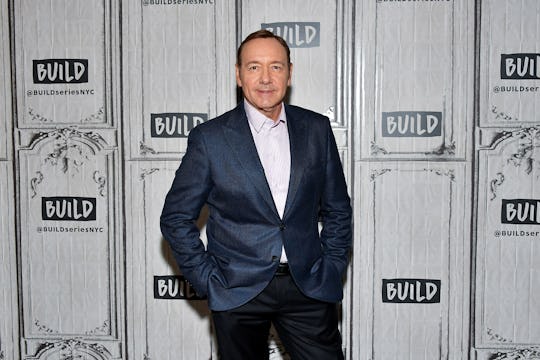 Dia Dipasupil/Getty Images Entertainment/Getty Images
Kevin Spacey Is No Stranger To Broadway
Kevin Spacey isn't exactly a new name in film or television: you probably know him as the corrupt and manipulative Frank Underwood in House of Cards, or as Lester Burnham in American Beauty, or maybe even as the voice of Hopper in A Bug's Life. But you might have been a bit curious when, back in April, Spacey was announced as the host of the 2017 Tony Awards. Sure, he's gotten praise for his many film and television performances, but what about any Broadway pursuits? Has Kevin Spacey ever won a Tony Award? Turns out, he's got quite the impressive background.
Spacey won Best Featured Actor for his performance in Lost in Yonkers in 1991. He has acted in a total of six Broadway productions over the years, the most recent of which was A Moon for the Misbegotten in 2007. It may have been 10 years since Spacey's last appearance on Broadway, but he's stuck around the theater world. Among other things, he ran the Old Vic Theater in London from 2004 to 2015 as its artistic director and starred in Brooklyn Academy of Arts' 2012 production of Richard III, which toured all over the world. On June 11, he'll be hosting the Tony Awards on CBS, alongside stars such as Stephen Colbert, Bette Midler, Keegan-Michael Key, and Olivia Wilde.
In the official statement released on the Tony Awards' website, Jack Sussman of CBS said, "With his extensive repertoire, charisma and unparalleled dedication to live theater, we are thrilled to have him join us for this prestigious television event." Spacey added in the same statement that he knew he wasn't the award show's first choice, but joked that it's kind of his trademark at this point: "I was their 2nd choice for Usual Suspects, 4th choice for American Beauty and 15th choice to host this year's Tony Awards. I think my career is definitely going in the right direction."
Spacey, who will be following James Corden as host of the Tonys, certainly has big shoes to fill: last year's award ceremony had the highest overnight ratings the Tonys have had in 15 years. That's probably due to last year being dominated by Hamilton in every category, of which 2017 has yet to find a replacement. This year's leaders are Natasha, Pierre & The Great Comet of 1812, (12 nominations), Hello, Dolly! (10 nominations), and Dear Evan Hansen (9 nominations); none of which have gained the same level of traction that Hamilton did last year. Spacey isn't worried, however, and thinks it's "kind of fantastic that this season there's not one dominant show," he told The Hollywood Reporter in an interview. Without any particular play pulling in Hamilton-like levels of attention, anyone could walk away as a winner, which kinda makes the whole thing even more exciting.
The 2017 Tony Awards will air live on June 11, at 8 p.m. ET on CBS.