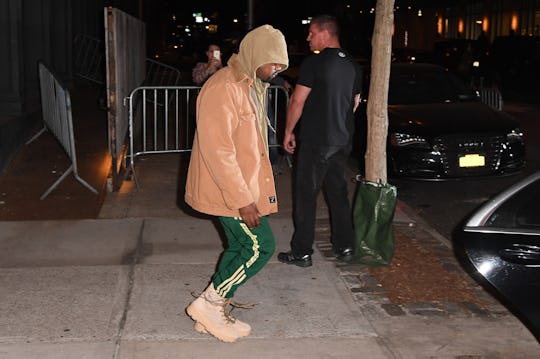 ANGELA WEISS/AFP/Getty Images
Has Kim Kardashian Spoken Out About Kanye West's Hospital Stay? He Was Just Released
A week after being admitted to the hospital for exhaustion, Kanye West was released on Wednesday. But even though he's reportedly lying low with family at the moment, his wife, Kim Kardashian, has not spoken about West's hospital stay publicly yet. Romper reached out to representatives for West and Kardashian and is awaiting a response.
Sure, they're a public couple — Kardashian made a career out of selfies and West is a rapper who never seems to shy away from Twitter or the cameras or the crowds — but after spending a week in a hospital for exhaustion, maybe it's best not to hound someone right?
West was admitted to the UCLA Medical Center under the advisement of his physician, although he was with his personal trainer, Harley Pasternak, at the time. Someone at Pasternak's house made a 911 call shortly before he was admitted on Nov. 21, according to TMZ, and reportedly said that West was acting "erratic." He was later handcuffed to stretcher and taken to the hospital. He was reportedly admitted under a "5150," which is an involuntary psychiatric hold when health officials think that a person is a danger to themselves or others.
West is currently home safe with his wife and family.
West had been working himself hard. After his wife was held hostage and robbed in Paris, West continued to tour while also making stops back at their home to be closer to Kim while she was recuperating. A week before his hospitalization, he told fans that he would have voted for Donald Trump and then at another show gave a long speech about Jay Z and Beyoncé and... well, a lot of things. He then cancelled all of his remaining "Saint Pablo" tour dates (which cost him millions of dollars). Then, he was admitted to the hospital for exhaustion. Can we all just give Kanye a break?
According to People, a source close to the family said that Kardashian was "very concerned." West wasn't diagnosed, but the source said that Kardashian "uses words like paranoia and explained that Kanye thinks everyone is out to get him. The only person Kanye trusts is Kim."
The source also said that Kim visited him every day while in the hospital and was working close with the doctors to figure out what was going on. The source wasn't named, so really, anything could be going on with the West family.
There is one upside to all of this, though — maybe West didn't really mean all those things he said about Trump and Beyoncé. Sleep deprivation can do a number on a person. For now, at least he's at home and being taken care of by the people who love him.