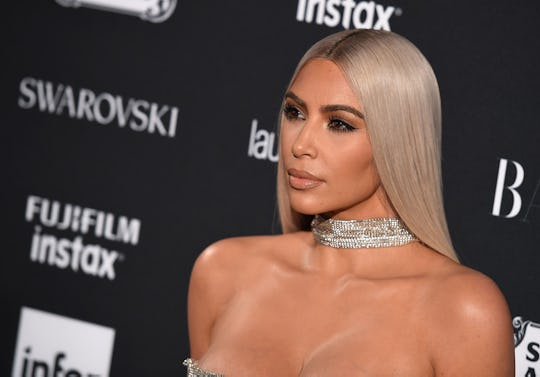 ANGELA WEISS/AFP/Getty Images
Has Kim Kardashian's Family Met Her Surrogate?
At first, news of the Kardashian-Jenner baby boom seemed hard to believe — and, actually, even though multiple outlets have quoted numerous sources as confirming that Kim Kardashian, Khloe Kardashian, and Kylie Jenner are all expecting, it still seems like only a direct confirmation from the women themselves will actually make it real. (None of their representatives have responded to requests for comment.) So far though, all fans know for sure is that, with help from a surrogate, Kim will be welcoming her third baby — a fact the star confirmed in a preview for the upcoming season of Keeping Up With The Kardashians, according to E! News. Has Kim Kardashian's family met her surrogate? Kardashian seems to be keeping the details around her surrogate's pregnancy understandably private, but that hasn't stopped the rumor mill from churning.
After TMZ first broke the story back in June that Kardashian and husband Kanye West had hired a surrogate, speculation swirled over the details. The couple remained mum, however, until the reality star shared an "extended supertease" for KUWTK's 14th season. According to E! News, Kardashian was shown having a FaceTime chat with sister Khloe, and during the chat, she asked, "What happens every time I say 'guess what?'" Khloe's response? "You're pregnant, or, the person is pregnant," to which Kardashian replies, "We're having a baby!"
In terms of official confirmation, that's all Kardashian seems willing to directly share for now. But that hasn't prevented plenty of unnamed sources from weighing in on the topic. According to People, Kardashian is said to be "excited" that her sisters are pregnant at the same time that she's set to welcome another child, and that, in general, "everyone is genuinely happy about what's happening." From the sounds of it, that's due to the fact that the family is reportedly just as close off-camera as they appear on-screen — so while so far the KarJenner clan seems to be letting Kim lead the way when it comes to divulging details about her surrogate, it doesn't seem unlikely that they've already met her (or at least that they've been given plenty of information about who she is).
Not everyone though seems to be as discreet when it comes to respecting Kardashian and West's privacy. Since news surfaced about the surrogate, various news outlets have speculated about her identity, and photos of a woman rumored to be carrying the couple's child have also surfaced online. And honestly, that must be beyond frustrating. Although the Kardashian family has basically turned the world's fascination with them into an incredibly-lucrative business, their surrogate is just a normal woman and mom trying to go about her daily life. It's one thing to be curious about who she is, but it's another to follow her around at the playground with a camera.
Most stories involving the three sisters' pregnancies though are at least much happier (not to mention less invasive). Us Weekly reported, for example, that 20-year-old Kylie has been getting lots of pregnancy advice from Kim, and that she's beyond excited to be able to be pregnant at the same time as Khloe — who is said to be "over the moon" that she is expecting a child with boyfriend Tristan Thompson. But, of course, this is all speculation relying on "sources," so it's unclear what is really true.
From the sounds of it, Khloe seems to feel much differently about motherhood now than she may have felt in the past. During her previous marriage to Lamar Odom, Khloe had turned to fertility treatments in an attempt to have a baby, but in the June season finale of KUWTK, Khloe revealed that, actually, she had only "fake tried" to get pregnant, according to E! News. Khloe explained, "I was married, but I knew the circumstances weren't the healthiest. So I just kept pretending I was doing it."
When it comes to the Kardashians, it can be hard to, well, keep up with what seem like constantly-swirling news stories about them. And now, with three KarJenners reportedly set to welcome babies around the same time, the rumor mill has naturally kicked up a notch. But the truth is that the world may never actually get to know very much about Kim Kardashian's surrogate, or the relationship she and her family have with her. And it's not really any of our business to know anyway.
For now, it seems like the Kardashians will continue to spill the beans on their own time. And, despite what will surely be plenty of attempts, no amount of speculating will likely change that.
Watch Romper's new video series, Romper's Doula Diaries:
Check out the entire Romper's Doula Diaries series and other videos on Facebook and the Bustle app across Apple TV, Roku, and Amazon Fire TV.