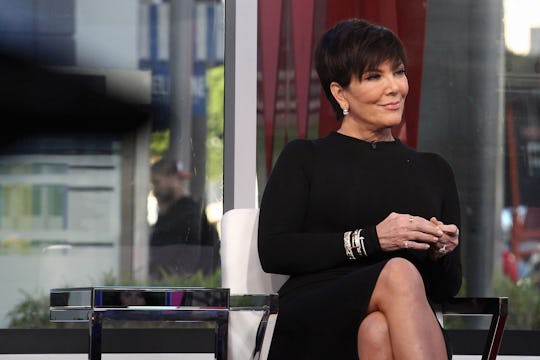 Tommaso Boddi/Getty Images Entertainment
Has Kris Jenner Talked To OJ Simpson? They Used To Be Close Friends
American Crime Story Season 2, The People v. O.J. Simpson premiered Tuesday, taking viewers inside the Simpson's 1995 trial for murder — and the forever-controversial ruling that he was not guilty — that captivated the whole country. It didn't take but more than a few minutes into the first episode for viewers to start wondering, has Kris Jenner talked to O.J. Simpson recently or at all since the ruling? Jenner has limited her contact with Simpson, though it's unclear when they stopped speaking.
For those who don't know, Jenner's first ex-husband, Robert Kardashian, was a member of Simpson's defense "dream team," playing a pivotal role in his controversial innocence. Jenner was best friends with both Simpson and Nicole Brown Simpson (whose murder Simpson stood trial for but was later acquitted). Jenner reportedly talked to Brown Simpson just hours before she was stabbed to death, a pained detail Jenner detailed in her 2011 memoir, Kris Jenner...and All Things Kardashian.
According to E! Online, Jenner said she spoke to Simpson when he was in jail during the murder trial. She said he wrote her a note that said, "I didn't do it." Jenner also told ABC news before the documentary The Secret Tapes of the O.J. Case: The Untold Story aired last year that she will forever feel guilty for not "paying more attention" to Brown Simpson's situation and the alleged abuse she experienced during her 17-year relationship with Simpson:
I will always feel guilty that I didn't pay more attention and didn't speak up when I thought anything was wrong or asked her more, 'Do you want to talk about it?
Romper reached out to Simpson's current legal team for comment regarding allegations that he physically abused Brown Simpson during their relationship.
Jenner told ABC that she was aware of Brown Simpson and Simpson's tumultuous relationship, and that awareness but inability to predict the future has continued to haunt her 20 years later. Jenner also said that Brown Simpson predicted her violent demise, according to ABC:
The one thing she would tell all of us by the time, you know, it got to that level was, 'He's going to kill me and he's going to get away with it.'
Romper also requested comment from Simpson's legal team regarding Simpson's alleged involvement in Brown Simpson's murder.
Now that another in-depth looked at arguably one of the most controversial murder trials in the U.S. is airing, it is unclear as to whether or not Jenner has been speaking with Simpson. One thing is for certain, if Jenner has spoken to Simpson, their conversations have been recorded by the Lovelock Correctional Facility in Nevada, so they likely don't contain much revelatory information. In 2008, Simpson was tried and convicted of multiple felonies, including armed robbery and kidnapping, and is currently serving a 33-year prison sentence.