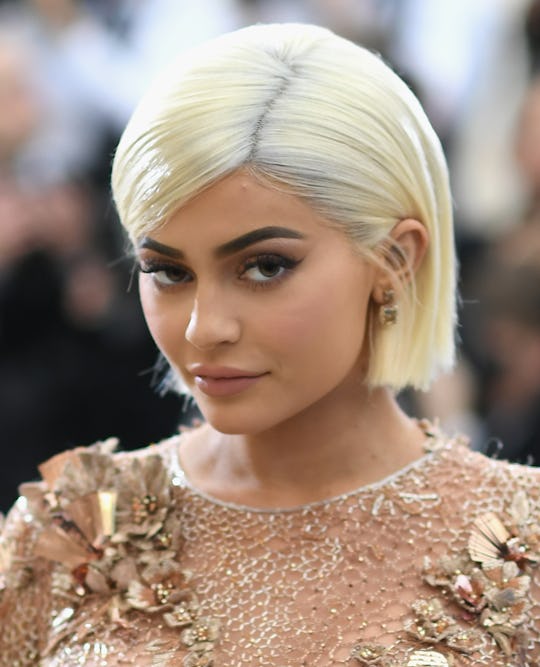 Dimitrios Kambouris/Getty Images Entertainment/Getty Images
Here's Everything That's Happened Since Kylie Jenner's Pregnancy Reveal
Ever since news first surfaced about Kylie Jenner's reported pregnancy nearly a week ago, there have been all sorts of different reactions to the rumored development, from tweeted criticisms to in-depth think pieces. While that's all well and good — I mean, the Kardashian-Jenner clan is known for eliciting varied reactions from the public, after all — it seems worth it to step back and ask: wait, has Kylie Jenner even confirmed her pregnancy yet, or are we basing this all on hearsay alone?
Romper has reached out to Jenner's representatives, but has yet to receive a confirmation — and for now, it seems like Jenner's approach is to neither confirm nor deny the rumors to publications or on her social media pages. However, older sister Kim Kardashian clapped back on Tuesday at stories about her supposed reaction to Jenner's news, retweeting a link to an article that claimed that "Kim Kardashian's first reaction to Kylie's pregnancy news was reportedly not great." "This sounds like a very fake story..." she captioned the retweet.
Then on Wednesday, Kardashian also posted on Facebook dismissing many of the stories surrounding Jenner's reported pregnancy. "Let me just say this... People who supposedly work with us 'confirming' details they know nothing about!" she wrote. "Especially when we havent [sic] even communicated with them SMH."
Needless to say, the crypticness of Kardashian's responses to the rumors weren't lost on fans, who were eager for a little more clarification:
Kardashian also took it upon herself to respond to reports that Caitlyn Jenner had confirmed Jenner's pregnancy news, tweeting, "And speaking of fake stories... The media is super shady for posting fake quotes from Caitlyn when she hasn't spoke to anyone."
Kardashian isn't the only member of the Keeping Up with the Kardashians crew who has spoken about Jenner's reported pregnancy rumors. Mom Kris Jenner was recently straightforward with the media about her daughter's wishes. "She's not confirmed anything," the momager extraordinaire told The Cut over the weekend. "I think it's kind of wild that everyone is just assuming that that's just happening."
As for Jenner herself? Ever since the news broke, she's ignored the rumors and simply gone on with her life. That's not to say she's hiding, though: she's posted three pictures on Instagram since the whole hubbub started, and only one has been a throwback shot. In the other two, there's no clear sign of a baby bump, but because of how the pictures were snapped, it's hard to be sure.
Because of the many publications who have confirmed the news with their own unnamed sources, it seems like Jenner's reported pregnancy just might be the real deal. However, part of me hopes that Jenner is not pregnant and is simply staying silent and letting the rumor mill run as a lesson to her fans to not believe everything they hear.
After all, young Jenner has been forced to deny multiple pregnancy reports over the last few years, and she's shot down rumors several times on both Keeping Up with the Kardashians and social media. Last year, according to E! News, she tweeted (and later deleted):
Omg. No I'm not pregnant. It's been the same rumor for years & no baby... So when I decide to go to that next stage in my life...I'll be the first to let you know...Not a weekly blog.
You know what the tone of that tweet sounds like to me? Exasperation. Jenner's silence at the moment seems like her way of refusing to take part in endless rumors about her life. Whether or not Jenner is actually pregnant this time around doesn't matter. What does matter is that, if the pregnancy news is true, Jenner will confirm the news when she's good and ready. If she doesn't, maybe we'll all learn to stop jumping to conclusions so quickly — a lesson the youngest Kardashian-Jenner family member definitely seems to want people to learn.
Watch Romper's new video series, Romper's Doula Diaries:
Check out the entire Romper's Doula Diaries series and other videos on Facebook and the Bustle app across Apple TV, Roku, and Amazon Fire TV.