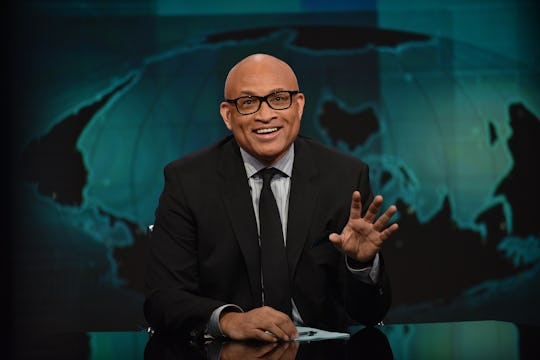 Bryan Bedder/Getty Images Entertainment/Getty Images
Has Larry Wilmore Hosted The White House Correspondents' Dinner Before?
Tonight President Barack Obama will deliver his eighth and final stand-up routine at the annual White House Correspondents' Dinner and attendees and viewers at home aren't only jazzed up for the celeb sightings and Obama's one-liners and comedy bits — folks are really excited for this year's host comedian Larry Wilmore who has been very vocal during Obama's final years in office. The Comedy Central Nightly News host already has a long and successful career on television, so some may be wondering if Larry Wilmore has hosted the White House Correspondents' Dinner before.
Turns out the big night will be the first time for Wilmore and some media critics are saying he is the "perfect voice" to head up Obama's last White House Correspondents' Dinner. Wilmore became a favorite host to audiences at home when Comedy Central announced that he would essentially replace the role of The Colbert Report with The Nightly Show with Larry Wilmore, which premiered on Jan. 19, 2015. With a more than two years on air, Wilmore has continually followed an "Obama don't care" theme throughout the show's White House coverage.
In just his first week on air as host of The Nightly Show, Obama delivered his seventh State of the Union Address and Wilmore began his coverage that evening by disclosing that he voted for Obama "because he's black."
During Obama's speech, he said "I have no more campaigns to run" and as Republicans began to clap, he cut them off and said, "I know, 'cause I won both of them." With an impressed reaction to the moment, Wilmore said, "Look, he may not get anything done in the next two years. But at least he's still back."
Then, of course, there's Wilmore's 2016 presidential campaign coverage, dubbed "The Unblackening," which has been highlighting America's quest to "de-Negrofy" the White House.
Wilmore's host debut tonight will be different from others in the past. "In addition to his own softspoken, devastating humor and his broader sense of mission, Larry Wilmore will be another black man up on that dais, adding another black experience to those already showcased at the high table," Sonia Saraiya, Salon's television critic, wrote on Saturday.
Like Obama, Wilmore is a 54-year-old African American. So, even though Wilmore has expressed his support for Obama that doesn't mean Wilmore won't take a few jabs at him tonight.
"I like Obama a lot, but remember, I supported him because he was black, " Wilmore said in an interview with CBS This Morning earlier this month. "I can attack his positions all I want."