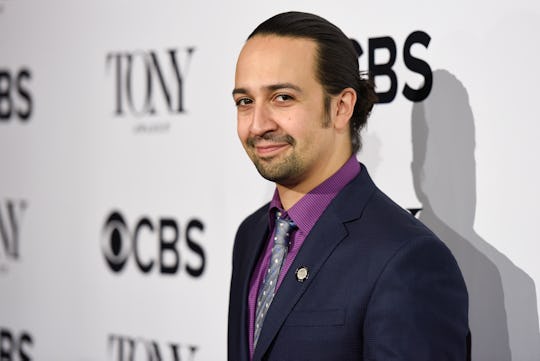 Matthew Eisman/Getty Images Entertainment/Getty Images
Has Lin-Manuel Miranda Ever Won A Tony? This Isn't His First Time Being Nominated
These days it seems Lin-Manuel Miranda is everywhere. From his sold-out Broadway musical about Alexander Hamilton to writing music for Stars Wars: The Force Awakens and the upcoming Disney film, Moana, Miranda stays busy. So far Hamilton has become Miranda's most successful venture. The soundtrack peaked at #1 on the US Top Cast Albums and US Top Rap Albums and is now certified platinum and won a Grammy. Miranda received a Pulitzer Prize for the musical and the book he co-wrote about the musical, Hamilton: The Revolution, is a bestseller. But, has the uber-successful Lin-Manuel Miranda ever won a Tony Award?
This year Hamilton broke the record for most Tony nominations with 16 nominations including Best Musical, Best Original Score, and two nominations for Best Lead Actor in a Musical for Miranda as Hamilton, and Leslie Odom, Jr., who plays Aaron Burr.
But this isn't the first time Miranda has been nominated for a Tony. He first received three nominations for his popular musical, In the Heights, and won the awards for Best Original Score and Best Musical. Miranda was then nominated for Best Musical again in 2013 for Bring It On: The Musical. It's clear that Miranda is not new to the Tony Awards and many predict Hamilton will sweep the Tonys this year, already dubbing this year the "Hamiltonys".
Not only is Miranda a recipient of Tony Awards, he also has experience working with the show. He received an Emmy for Original Music and Lyrics for the 67th Tony Awards in 2014 alongside Tom Kitt. With an Emmy, Grammy, and two Tony's already in his pocket Miranda is one award away from the coveted EGOT title, which includes an Emmy, Grammy, Oscar, and Tony.
To date, only 12 people have earned the EGOT title in all competitive categories, including Richard Rodgers, who's the namesake of the theater that Hamilton is currently performed at, Audrey Hephurn, Mel Brooks, and Whoopi Goldberg. With a Pultizer prize already in hand, if (more like when) Miranda gets an Oscar, he will become the third person to receive all five awards (the PEGOT).