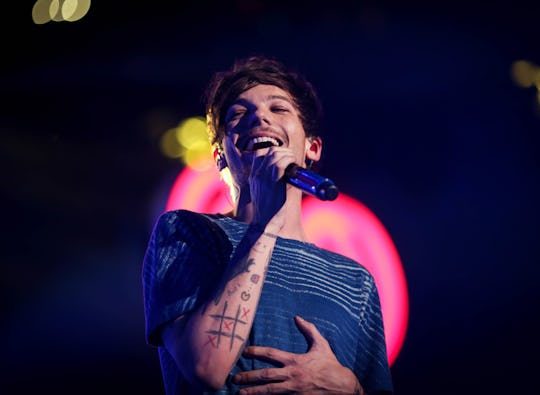 Christopher Polk/Getty
Has Louis Tomlinson's Baby Been Born? His Fans Seem To Think So
One Direction fans have been eagerly awaiting the arrival of the first One Direction baby, and, on Friday, Twitter was buzzing with rumors that their wait may be over. But has Louis Tomlinson's baby been born? According to the Daily Mail, a One Direction fan Twitter account, @1DExclusiveInfo, has claimed to have received confirmation of the birth from Briana Jungwirth's grandmother, who reportedly congratulated the former couple on social media. In a video posted to Instagram of what appears to be a musical greeting card, Marianna Case wrote a long caption address to Tomlinson, referencing the baby's arrival:
Louis just let Ur heart dance. U now have another you. A gift that will want to be just like YOU. 'Love him & my young grandchild that gave him to you. LET her know she's special. She just wanted to love U not even knowing who U were or your profile Ur & reputation. Be free & just LIVE. It's simple. Not complex.
Tomlinson and 24-year-old Jungwirth announced the news that they were expecting in July following a brief relationship and are planning to remain dedicated co-parents. According to Hello!, Tomlinson moved to California to be closer to Jungwirth and their baby after she gives birth, and sources said they were very excited about the pregnancy.
According to the Daily Mail, Tomlinson and Jungwirth met through mutual friends following Louis' split from longterm-girlfriend Eleanor Calder in March 2015. Jungwirth is reportedly a stylist in L.A., and is "a very private person," opting to close her social media accounts after news of her pregnancy broke due to public intrusion.
Given the intensity of One Direction fans' devotion to the group, it's not surprising that Jungwirth felt the need to retreat. Although the news of the birth has yet to be confirmed by either Tomlinson or Jungwirth, Twitter is buzzing with tweets from Directioners speculating on the news, using the trending hashtag, #welcomebabytomlinson.
Whether or not the rumors are true, Hello! reported that Tomlinson has been looking to an unlikely role model for parenting advice: Simon Cowell. The two are said to be working together on a number of upcoming projects now that One Direction has gone their separate ways, and Cowell — a father of one himself — apparently advised Tomlinson to just "enjoy fatherhood."
It's definitely been a year of new beginnings for Tomlinson, who in addition to leaving the band and becoming a dad-to-be, has also found a new love interest. He's certainly going to stay busy — hopefully he'll have enough time to put up some adorable baby photos.
Image: Christopher Polk/Getty