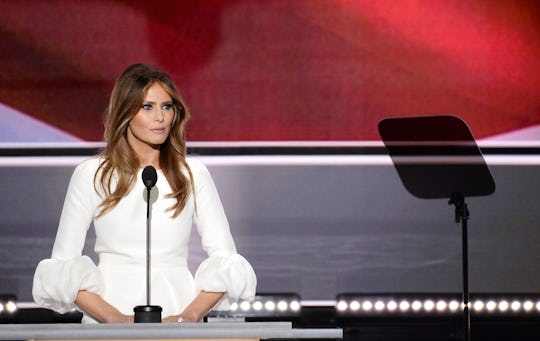 ROBYN BECK/AFP/Getty Images
Has Melania Trump Supported Political Candidates In The Past? She Refuses To Talk Politics
Melania Trump is not the most outspoken spouse of a presidential candidate. Though voters have heard more from her than the notoriously camera-shy Columba Bush, for example, she leaves much of the stumping up to her stepdaughter, Ivanka Trump. Most models aren't known for being shy, so one has to wonder whether she's just not into politics. Has Melania Trump supported political candidates in the past? According to The Hill, she's not like any other potential First Lady we've ever seen.
Born in communist Yugoslavia in 1970, Melanija Knavs slowly climbed up the social ladder to become Slovenian model Melania Knauss, and finally, Melania Trump, third wife to the Republican nominee for president of the United States. While the traditional role of first lady is to adopt a pet charity, when pressed in an April GQ interview, Trump only made allusions to "Many different charities involving children, involving many different diseases," that she supports. Her politics are likewise vague; when her arm is twisted, she defers to her husband's positions, once arguing with TV host Joy Behar over the validity of President Obama's birth certificate in 2011. The only candidate she seems to support is the one to whom she's currently married.
She appears to have some thoughts on immigration, though. On MSNBC's Morning Joe in February, she recounted how she became an American citizen: "I follow the way it's supposed to be. I never thought to stay here without papers. I had visa. I travel every few months back to the country, to Slovenia, to stamp the visa." That would be her H-1B Visa for highly skilled workers, which her husband's campaign vows to reform. From the official campaign site: "The H-1B program is neither high-skilled nor immigration: these are temporary foreign workers, imported from abroad, for the explicit purpose of substituting for American workers at lower pay. I remain totally committed to eliminating rampant, widespread H-1B abuse."
We know that Trump's voted at least once, cameras caught her casting her ballot in the New York Republican primary in April. But other than immigration, her views remain a mystery. "I chose not to go into politics and policy," she told GQ. She says that she and her husband discuss her political opinions, but "Nobody knows and nobody will ever know," what those opinions are. Similarly, she told Harper's Bazaar in January, "I'm choosing not to go political in public because that is my husband's job. I'm very political in private life, and between me and my husband I know everything that is going on. I follow from A to Z." But rest assured she's up for the job of first lady. In 1999, she told The New York Times, "I would be very traditional. Like Betty Ford or Jackie Kennedy. I would support him." It's unclear just what that means apart from being an attractive female figure in the White House, but hopefully she would clear things up come November (but let's hope that doesn't happen).