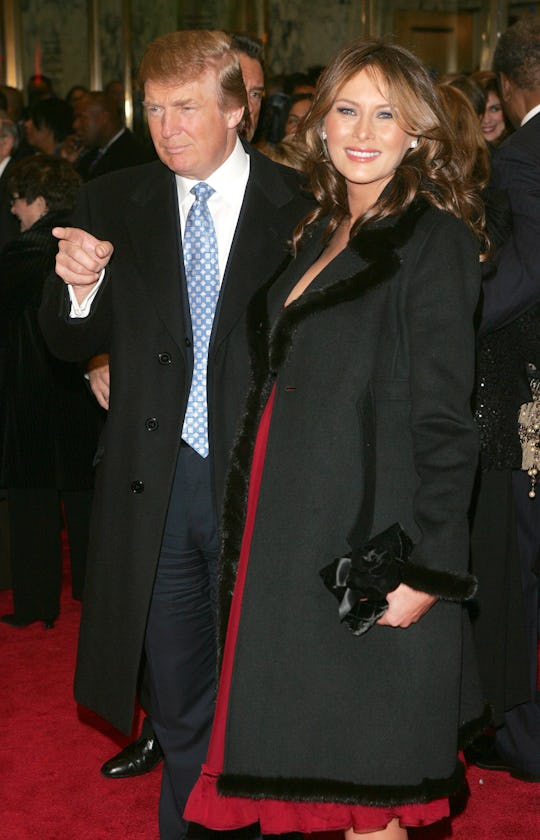 Peter Kramer/Getty Images Entertainment/Getty Images
Has Natasha Stoynoff Written For Any Other Publications? She's Also A Best-Selling Author
In the wake of a leaked 2005 Access Hollywood tape — in which Republican presidential nominee Donald Trump can be heard talking about how he would use his fame to allegedly grope women — multiple accusers have come forward, alleging that Trump assaulted or touched them inappropriately. One of the most prominent of the accusations came from writer Natasha Stoynoff, detailed in a firsthand account published in People magazine. And ever since the reporter described her startling alleged encounter with the GOP nominee, who denies that it ever happened, many have been curious about her background, including her writing career. So, has Natasha Stoynoff written for any other publications?
In addition to her journalism background at People, Stoynoff reportedly has an extensive writing background including the title of New York Times bestselling author. According to a biography on Goodreads.com, Stoynoff has six books to her credit, including The Godfather's Daughter: An Unlikely Story of Love, Healing, and Redemption and Life's Little Emergencies: Everyday Rescue for Beauty, Fashion, Relationships, and Life.
Before taking a position at People, the Canadian writer also worked as a news reporter and a photographer for The Toronto Star, a columnist for The Toronto Sun, and as a freelancer for Time magazine. Currently, Stoynoff lives in New York City, where she writes books and screenplays.
"She was a very open and honest person, and that's one of the reasons I remember her with such fondness," a columnist for The Toronto Star Heather Mallick told The Huffington Post. "She just had a friendly personality. She was a person of great candour."
Mallick also told The Huffington Post that Stoynoff "was a talented interviewer with a striking ability to develop a rapport with her subjects."
Since Stoynoff published her account of allegedly being attacked by Trump, six colleagues and close friends have come forward to corroborate her allegations from the 2005 encounter. The reporter claimed that, during an interview at his Mar-a-Lago mansion in Florida that year, Trump led her to one of the mansion's many rooms and shut the door behind her, allegedly pushing her against a wall and forcibly kissing her.
"We walked into that room alone, and Trump shut the door behind us," Stoynoff writes in the narrative published in People. "I turned around, and within seconds he was pushing me against the wall and forcing his tongue down my throat."
Trump has vehemently denied her claims, later attacking her physical appearance by claiming Stoynoff was not attractive enough for him to assault. "Look at her, look at her words, you tell me what you think," Trump said at a rally. "I don't think so. I don't think so."
Throughout her career, Stoynoff interviewed a variety of celebrities for the celebrity magazine, including Trump. She reportedly remained silent for so many years about Trump's alleged attack because she was terrified of the potential ramifications coming forward would have.
Whatever happens next in her story, whether her allegations against Trump have any effect on his campaign, one thing is certain: Stoynoff will likely continue to work quietly in the background, adding to her already impressive writing career.