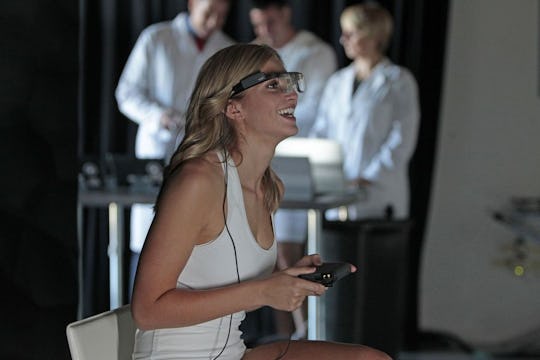 ABC/Rick Rowell
Has Olivia Caridi Returned To Her Job As News Anchor? The 'Bachelor' Contestant Has Been Laying Low For A While
Hold the phone. Last week I was calling Olivia Mrs. Higgins, and now people are wondering if Olivia Caridi has returned to her job as a news anchor at the WCYB station, and it's getting me all riled up. I mean, Olivia is the type of contestant you want to stay on a show like The Bachelor — you know, till the bitter end. She's just the right balance of girl next door and cray-cray drama.
Hey, I'm not one to throw shade, but Olivia spent these past three episodes not only impressing Ben Higgins with her ambition and gorgeous gams, but also by playing a bit of the villain (remember the mind games she played with her cast mates on the Episode 2 group date?). She also captured major viewer appeal by inspiring memes with her now infamous I'm so excited drop-jaw expression. You know the one.
Rest easy, Olivia fans, the news anchor has not reclaimed her post, if her social media pages and WCYB Facebook bio are any indication. According to her personal Instagram feed, she's been busy blogging, hanging out with her family, and having a good time — but not reporting the news.
What does this mean? We can't know for sure. Maybe Olivia indeed landed the part of Mrs. Higgins. Or, perhaps she was able to use the platform of The Bachelor franchise to expand her already-established career as a TV personality (do I see a Bachelor in Paradise in Olivia's future, like Bachelor rival Lace?). Or maybe she just plans to return to the newsroom after all the Bachelor buzz has died down.
Seriously, all this speculation has got me like:
Coupling up with Bachelor Ben may be a long-shot theory. After all, there was that awkward "cankles" moment on episode three, when Ben came downstairs to meet Olivia for a date after finding out that two of his friends had just died in a plane crash — and she made the moment about her. That didn't exactly bode well for the couple. US Weekly reported that in his confessional later, Ben told the cameras, "I came in here a little down and this is not exactly what I want to talk about.... It would be nice if a woman just took some time to not have a lot of expectations and just comfort [me]."
But she did nab a rose, so for now, she's still in the game.
While the rest of us wonder what became of Olivia, the Texas native has been taking the time to appreciate the "excellent [news] work" coming from her alma mater and supporting blossoming journalists, so that's pretty cool.
Looks like if viewers want to see Olivia on TV, the only place they'll be able to find her is The Bachelor... for now that is.
Images: ABC/Rick Rowell