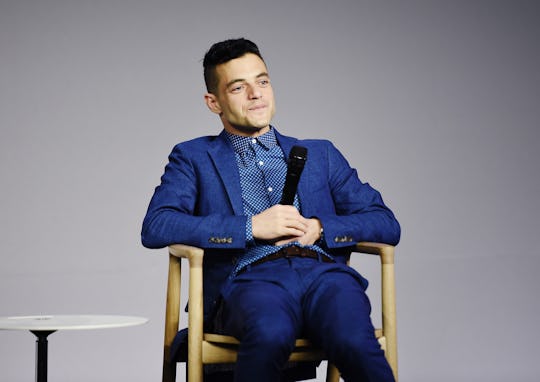 Nicholas Hunt/Getty Images Entertainment/Getty Images
Has Rami Malek Ever Won An Emmy? He Might Win This Year
Though Rami Malek has been acting for the last twelve years, it wasn't until USA's Mr. Robot that his career really exploded. There has been a ton of buzz surrounding the show since its first season, with both audiences and critics getting hooked by the creepy ambiance, mysterious plotting, and unique direction. It's a show that's firing on all cylinders, but nothing carries it as much as Malek does. As hacker Elliot Alderson, the main character and unreliable narrator who controls and drives the story, Malek is truly giving a career-changing performance. There's no denying that the work he's putting in is Emmy-worthy, but has Rami Malek ever won an Emmy?
This is Malek's first Emmy nomination (and hopefully it'll be his first win too), though he was nominated for a Golden Globe and has won a Critics' Choice Award for his role as Elliot. Prior to Mr. Robot, all of his TV and film roles were supporting and though he did well, it was never quite enough to land a nomination for anything, especially for a relative unknown. Mr. Robot really gave him his first opportunity to earn some awards buzz, but the show is still in its early stages (the second season recently finished) so there wasn't really a chance for it to land an Emmy before now.
Though this is Mr. Robot's first year getting some Emmy attention, it did win two awards at the 2016 Golden Globes. The show won for Best Television Series – Drama, and co-star Christian Slater also took home a prize for Best Supporting Actor in his role as the titular Mr. Robot. The series could be headed to even greater glory at the Emmys, however, because it's been nominated for a total of six different awards: Outstanding Lead Actor in a Drama Series for Malek, Outstanding Drama Series, Outstanding Writing for a Drama Series for creator Sam Esmail, Outstanding Music Composition (which it won), Outstanding Casting, and Outstanding Sound Mixing.
In response to his nomination, Malek gave a nod to the cast and crew of Mr. Robot as well as his fellow nominees. "I couldn't be more honored to receive this nomination," he said. "To be included among of list of actors whose work I've admired for years is truly humbling. I'm so grateful for the brilliant Sam Esmail who brought Elliot to life and has allowed me to play a role one could only dream of. Thank you to the cast, crew, USA Network and Universal Cable Productions. And, of course, to the Academy."
Lead actor and actress categories are always tough because of the sheer amount of talent on display, so it's impressive on its own that Malek was able to get his foot in the door, particularly for a show that errs on the unconventional side. Even if he doesn't win, this is just the first of what will undoubtedly be many more accolades to come.