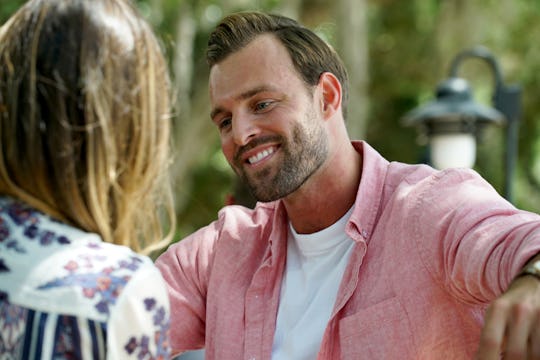 Michael LeGrand/ABC
Has Robby's Ex-Girlfriend Spoken Out About 'The Bachelorette'? She Made Her Feelings Known
If you're like me, you only recently realized while watching The Bachelorette that Robby and Chase are not, in fact, the same person. Imagine my surprise! Thankfully now it will be easier to tell them apart because Robby is causing some major drama. It's been rumored that he dumped his longterm girlfriend so he could be on the show, something he denied when JoJo asked him about it point-blank. But has Robby's girlfriend said anything about The Bachelorette? Has she confirmed or disputed the rumors?
Robby's ex, Hope Higginbotham, has made some comments, but after making her Instagram private, they were harder to find. However, we live in a modern age and screengrabs exist, so fortunately not all is lost. (We also must live in an age of dopplegangers, because Hope and JoJo bear a more than passing resemblance to one another.) Apparently after Robby gave his whole spiel about the breakup to JoJo – including telling her that it happened months ago and that "everything in the relationship was wrong" – Hope allegedly took to Instagram to comment on it. As pictured in this Reality Steve tweet, Hope supposedly posted a popular meme with the caption: "Why you always lyin'? @roberthunter89 #thebachelorette #mymommadontlikeyou #iaintsorry."
Flawless meme choice, Hope.
According to Robby, the three year relationship ended months before The Bachelorette after a huge fight, but it was a long time coming. He claimed in the entirety of their relationship he had never been to her house or met her mother, which put a strain on him because of "how big of a family man" he is. He assured JoJo that his past relationship was doner than done and he was ready to get engaged on television at a moment's notice. OK, that's paraphrasing, but Robby wanted JoJo to know that he was ready to move on.
While she might have believed him at the time, upcoming promos for the home visits show it might not be that simple. JoJo claims she feels "nauseous" just thinking about this and begs Robby to be honest about the situation. Which might be difficult if, as per Hope, he is always lyin'.
The drama doesn't stop there either.
Apparently after his exit from the show, Chad a.k.a. the Littlefinger of The Bachelorette, crossed paths with Hope – and when they got together, they didn't just have a nice chat. Chad posted pictures of himself and Hope getting their smooch on, along with this caption: "While traveling this weekend, our paths crossed and I finally had the opportunity to meet Hope Higginbotham in person. Let me just say, she is even more beautiful in person! A great girl like her deserves so much better than someone who lies, cheats, and ends a four year long relationship in order to pursue fame on a tv show. You're amazing, I miss you already."
Trust Chad to transcend to a whole new level of trolling, one that Hope seems pretty comfortable hanging out on. While it may not be a vocal comment from her, the pictures certainly send a message: Hope does not seem thrilled with Robby, and she's smart enough to keep her hands clean by getting a third party to sass him. Wait, does this mean Hope is really the Littlefinger of the situation?
It's possible the entire debacle is just a matter of bad timing. Perhaps everything was blown out of proportion due to the intense scrutiny of reality TV and Robby ended up looking like a jerk even though he didn't do anything wrong. Or maybe Robby really did ditch his girlfriend to dive headfirst into the world of televised rose ceremonies.
Either way he's going to have to act fast to do some damage control before JoJo sends him packing.