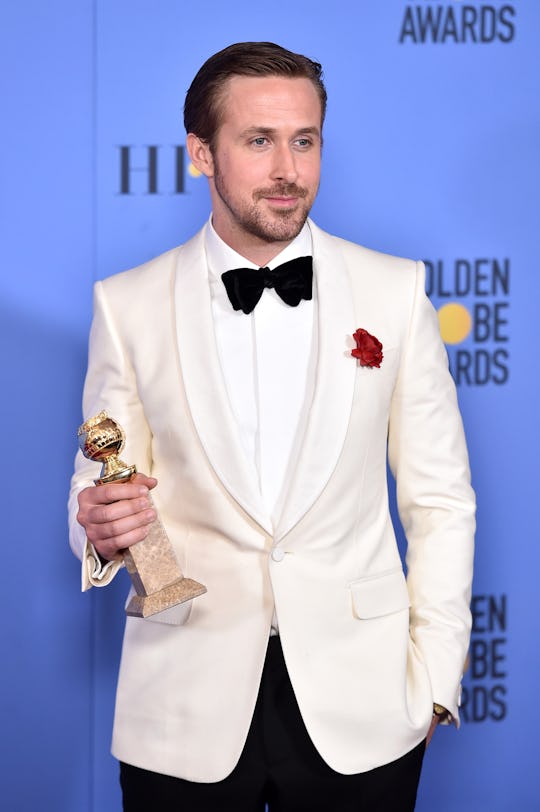 Alberto E. Rodriguez/Getty Images Entertainment/Getty Images
Ryan Reynolds Set To Earn Another Oscar Nomination
Ryan Gosling has won many awards over his lifetime, from an MTV Movie Award for Best Kiss (for The Notebook, duh), to an unofficial one I just made up and handed out for Best Beautiful Man at the Center of an Awesome Feminist Meme. He hasn't yet brought home the biggest film award of all, but has Ryan Gosling ever been nominated for an Oscar? He was up for the coveted gold statuette once before, although he didn't win it. And he'll likely get another chance to snag it at this year's Oscars, thanks to the success of his new film, La La Land.
Gosling was previously nominated for an Oscar for his work in Half Nelson, a 2006 film about an inspiring middle school teacher in Brooklyn who struggles with drug addiction. Ultimately, he lost out to Forest Whitaker for The Last King of Scotland, but this year, according to the people who make predictions about these sorts of things, he'll be back on the short list. (Unless the pundits are wrong, which, you know, can definitely happen.)
So far this awards season, Gosling has already picked up a Golden Globe for Best Actor in a Musical or Comedy for La La Land, the feel-good movie musical so popular that Saturday Night Live even did a sketch about what happens to people who dare to say they didn't like it all that much.
And for those who have somehow missed all the hype, a quick refresher: In La La Land, Gosling once again teams up with Emma Stone (a fellow ocean of charm crammed into a human shape, who is also predicted to be an Oscar contender for her work in the movie), and they sing, dance, and fall in love all over Los Angeles. As if that weren't enough, Gosling learned to play the freaking piano, which isn't quite putting on a fake nose and gaining or losing a bunch of weight, but still seems a likely path to getting some Oscar love.
So when the nominations are announced Tuesday morning, expect Gosling's name to be among them. And while other names widely expected to be in contention for Best Actor like Casey Affleck (Manchester by the Sea) and Denzel Washington (Fences) are more likely frontrunners to actually win the award, we know, based on his beautiful Golden Globes shout-out to his wife, Eva Mendes, that Gosling would give an acceptance speech well worth watching.