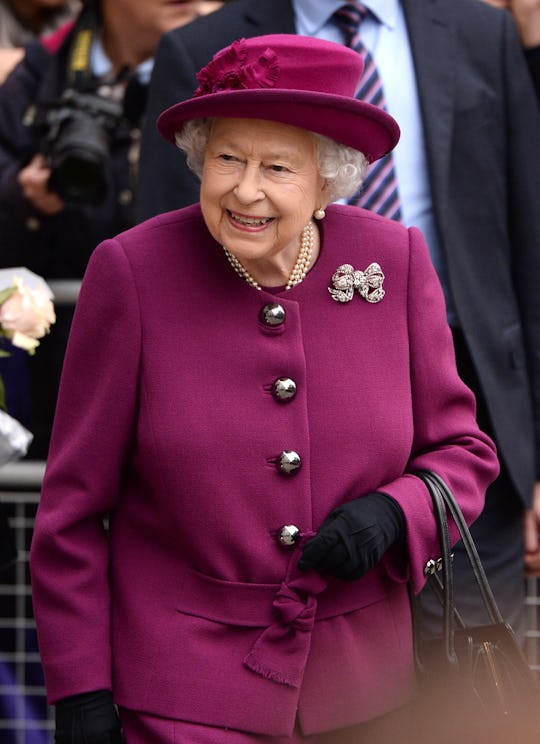 Jeff Spicer/Getty Images Entertainment/Getty Images
Has The Queen Ever Broken Royal Protocol? The Answer May Surprise You
Never sit with your legs crossed at the knee. Dress modestly. Enter the room in order of precedence. When it comes to royal protocol, there's a list a mile long that every member of the royal family must follow. As of late, Meghan Markle, the Duchess of Sussex has been under major scrutiny for bypassing some big ones. But what about the Queen herself? Has the Queen ever broken royal protocol? The answer may surprise you.
While promoting her new best-selling memoir, Becoming, in London, former First Lady Michelle Obama shared a story about her first meeting with the Queen. Back in 2016, during a visit to Windsor Castle, Obama was all nerves while waiting for Queen Elizabeth II to pick her up via car. (But really, can you blame her?)
"So I had all this protocol buzzing in my head, and I was like 'don't trip down the stairs and don't touch anybody, whatever you do,'" Obama told her book tour audience in London, as CNN reported. "And so the Queen says 'just get in, sit wherever' and she's telling you one thing and you're remembering protocol and she says 'Oh it's all rubbish, just get in.'"
During this same trip, the Queen also reportedly gave Obama a hug. Touching a member of the royal family is technically off-limits but the Queen herself apparently couldn't resist, according to Marie Claire.
So that's that. The Queen apparently thinks royal protocol is absolute "rubbish." And though you may not have heard that particular story before, she's given royal watchers some hints that she might not be the strictest about protocol at all times.
This summer, a newly-married Meghan Markle walked with Queen Elizabeth to a waiting car after a public engagement. Instead of going in first, however, she ushered Markle in first, according to Heart UK. She broke protocol by not being the first to get into a vehicle. Remember, entering a room or a car is done in order of precedence, according to Reader's Digest. Some commented that this gesture seemed to show just how accepting the Queen was of her new granddaughter-in-law.
She seems to really like Markle, because this is not the first (and probably not the last) time she broke protocol for her. The Queen invited Markle to Christmas dinner at Windsor Castle before she was officially married to Prince Harry. Christmas dinner is usually reserved for true royals (which means she'd normally have had to wait until after the wedding to receive an invite). Markle received a seat at the table despite this royal protocol, according to Cosmopolitan. Even Kate Middleton didn't get that kind of invite.
But if you look back on the Queen's life, she's been breaking protocol since she was just a young woman. For instance, when marrying Prince Phillip, she vowed to "obey" her husband, reciting the traditional wedding vows of the time despite being, you know, in line for the throne. The common folk didn't like this, because they thought the Queen should not have to answer to anyone, according to TIME. However, Princess Diana, Kate Middleton, and Meghan Markle did not use this word in their vows.
And a few years later, when Prince Edward was born, she allowed Phillip into the delivery room. Until then, no one was allowed in the room while the Queen gave birth, according to Ireland's Independent. Even a Queen needs the support of her husband during child birth.
She's also not opposed to showing love to her fans. In a trip to Malaysia in 1998, she signed a few autographs, which is definitely against protocol, Cosmopolitan also reported.
So, does the Queen break royal protocol? It's safe to say that she does so every now and again. She's strong lady, with a mind of her own and even at 92 she's not going to let anyone tell her what to — royal protocol or not.
This first-time mom wants to have a home birth, but is she ready? Watch how a doula supports a military mom who's determined to have a home birth in Episode One of Romper's Doula Diaries, Season Two, below. Visit Bustle Digital Group's YouTube page for the next three episodes, launching Mondays in December.